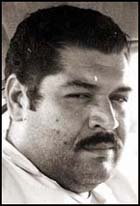 Lawrence Howard was a member of Interpen (Intercontinental Penetration Force) that was established in 1961 by Gerry P. Hemming. Other members included Other members included Loran Hall, Roy Hargraves, Steve Wilson, Howard K. Davis, Edwin Collins, Dick Whatley, James Arthur Lewis, Dennis Harber, Ramigo Arce, Ronald Augustinovich, Joe Garman, Edmund Kolby, Ralph Schlafter, Bill Dempsey, Manuel Aguilar and Oscar Del Pinto.
This group of experienced soldiers were involved in training members of the anti-Castro groups funded by the Central Intelligence Agency in Florida in the early 1960s. When the government began to crack down on raids from Florida in 1962, Interpen set up a new training camp in New Orleans. The group carried out a series of raids on Cuba in an attempt to undermine the government of Fidel Castro. This involved a plan to create a war by simulating an attack on Guantanamo Naval Base.
In 1963 Howard travelled around America with William Seymour and Loran Hall. Michael Rohde, a lawyer who met them during this period, described Hall and Seymour as "two extremely dangerous, committed individuals."
Loran Hall re-established contact with Santo Trafficante in Florida in 1963. In his book, The Road to Dallas, the historian, David Kaiser claims: "Loran Hall had been involved in many discussions of assassination plots against Castro - including one failed attempt known as the Bayo-Pawley raid in the previous June - and had also heard a good deal of talk about assassinating President Kennedy."
During this time Hall travelled with William Seymour and Lawrence Howard. Michael Rohde, a lawyer who met them during this period, described Hall and Seymour as "two extremely dangerous, committed individuals."
On 25th September, 1963, a Cuban exile, Silvia Odio had a visit from three men who claimed they were from New Orleans. Two of the men, Leopoldo and Angelo, said they were members of the Junta Revolucionaria. The third man, Leon, was introduced as an American sympathizer who was willing to take part in the assassination of Fidel Castro. After she told them that she was unwilling to get involved in any criminal activity, the three men left.
Silvia Odio discovered after the assassination of John F. Kennedy that Leon was Lee Harvey Oswald. Odio gave evidence to the Warren Commission and one of its lawyers commented: "Silvia Odio was checked out thoroughly... The evidence is unanimously favorable... Odio is the most significant witness linking Oswald to the anti-Castro Cubans."
On 16th September, 1964, FBI agent Leon Brown interviewed Loran Hall on behalf of the Warren Commission. Brown claims that Hall admitted that he, Lawrence Howard and William Seymour made a visit to a woman who could have been Silvia Odio. However, when Hall was re-interviewed on 20th September and was shown a photograph of Odio, he claimed she was not the woman he met in New Orleans.
In December, 1967, Jim Garrison claimed that Howard was associated with David Ferrie in New Orleans. It was also suggested that he was involved in the assassination of John F. Kennedy. Howard denied this claiming that he was in Louisiana on 22nd November, 1963.
The author, Anthony Summers, suggests that the visit had "been a deliberate ploy to link Junta Revolucionaria, a left-wing exile group, with the assassination".
Lawrence Howard died in 1998.