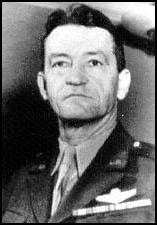 Claire Lee Chennault was born in Commerce, Texas, on 6th September, 1893. He was reared in Louisiana where his father was a cotton planter. He studied agriculture at Louisiana State University but left to become a teacher in Texas.
Chennault joined the United States Army during the First World War. Chennault was transferred to the Army Air Corps but did not qualify as a pilot until 1919. He eventually became chief of fighter training at Maxwell Field, Alabama. Chennault was also the author of the book, The Role of Defensive Pursuit (1935).
In 1937 Major Chennault retired from the United States Army Air Force (USAAF) and moved to China. Soon afterwards he was employed to create an aviation school. Chennault also joined a small group of American civilians training Chinese airmen and served as 'air adviser' to Kuomintang leader Chiang Kai-shek.
In October 1940, Franklin D. Roosevelt told Tommy Corcoran that he wanted him to resign from the administration. He wanted him to carry out a covert mission and it was "too politically dangerous" to do this while serving in his government. Roosevelt believed that the best way of stopping Japanese imperialism in Asia was to arm the Chinese government of Chiang Kai-shek. However, Congress was opposed to this idea as it was feared that this help might trigger a war with Japan. Therefore, Roosevelt's plan was for Corcoran to establish a private corporation to provide assistance to the nationalist government in China. Roosevelt even supplied the name of the proposed company, China Defense Supplies. He also suggested that his uncle, Frederick Delano, should be co-chairman of the company. Chiang nominated his former finance minister, Tse-ven Soong, as the other co-chairman.
Chennault told Corcoran that if he was given the resources, he could maintain an air force within China that could carry out raids against the Japanese. Corcoran returned to the United States and managed to persuade Franklin D. Roosevelt to approve the creation of the American Volunteer Group.
One hundred P-40 fighters, built by the Curtiss-Wright Corporation, intended for Britain, were redirected to Chennault in China. William Pawley was Curtiss-Wright's representative in Asia and he arranged for the P-40 to be assembled in Rangoon. It was Tommy Corcoran's son David who suggested that the American Volunteer Group should be called the Flying Tigers. Chennault liked the idea and asked his friend, Walt Disney, to design a tiger emblem for the planes.
On 13th April, 1941, Roosevelt signed a secret executive order authorizing the American Volunteer Group to recruit reserve officers from the army, navy and marines. Pawley suggested that the men should be recruited as "flying instructors".
In July, 1941, ten pilots and 150 mechanics were supplied with fake passports and sailed from San Francisco for Rangoon. When they arrived they were told that they were really involved in a secret war against Japan. To compensate for the risks involved, the pilots were to be paid $600 a month ($675 for a patrol leader). In addition, they were to receive $500 for every enemy plane they shot down.
The Flying Tigers were extremely effective in their raids on Japanese positions and helped to slow down attempts to close the Burma Road, a key supply route to China. In seven months of fighting, the Flying Tigers destroyed 296 planes at a loss of 24 men (14 while flying and 10 on the ground).
Corcoran's work with China Defense Supplies caused some disquiet in Roosevelt's administration. Henry Morgenthau was a prominent critic. He argued that in effect, Corcoran was running an off-the-books operation in which a private company was diverting some of the war material destined for China to a private army, the American Volunteer Group.
Resistance came from General George Marshall and General Joseph Stilwell, the American commander in Asia. Marshall and Stilwell both believed that Chiang Kai-shek was completely corrupt and needed to be forced into introducing reforms. Stilwell complained about Corcoran's ability to present Chiang in the best possible light with Roosevelt. Stilwell wrote to Marshall that the "continued publication of Chungking propaganda in the United States is an increasing handicap to my work." He added, "we can pull them out of this cesspool, but continued concessions have made the Generalissimo believe he has only to insist and we will yield."
In April 1942, Chennault was recalled to duty in the United States Army as a brigadier general. Six months later he published the controversial "Chennault Plan" that called for a large increase in air-power to bomb the Japanese into submission. This plan was opposed by General Joseph Stilwell who favoured intensified ground action. Franklin D. Roosevelt supported Chennault and in March 1943, he was promoted to the rank of major general.
Initially the action was fairly successful but in April 1944, the Japanese launched Operation Ichi-go. Chiang's army was forced back and the enemy took seven of the airfields built as part of the Chennault Plan. This deprived US forces in the Pacific of strategic air support. Discredited and out of favour, Chennault resigned from the United States Army Air Force.
In August 1945, Tommy Corcoran joined with David Corcoran and William S. Youngman to create a Panamanian company, Rio Carthy, for the purpose of pursuing business ventures in Asia and South America. Soon afterwards, Chennault and Whiting Willauer approached Corcoran with the idea of creating a commercial airline in China to compete with CNAC and CATC. Corcoran agreed to use Rio Cathy as the legal vehicle for investing in the airline venture. Chiang Kai-shek agreed that his government would invest in the airline. Corcoran anticipated he would own 37% of the equity in the airline, but Chennault and Willauer gave a greater percentage to the Chinese government, and Corcoran's share dropped to 28%.
Civil Air Transport (CAT) was officially launched on 29th January, 1946. Corcoran approached his old friend Fiorella LaGuardia, the director general of the United Nations Relief and Rehabilitation Administration (UNRRA). He agreed to award a $4 million contract to deliver relief to China. This contract kept them going for the first year but as the civil war intensified, CAT had difficulty maintaining its routes.
The OSS had been disbanded in October 1945 and was replaced by the War Department's Strategic Service Unit (SSU). Paul Helliwell became chief of the Far East Division of the SSU. In 1947 the SSU was replaced by the Central Intelligence Agency.
CAT needed another major customer and on 6th July, 1947, Chennault and Tommy Corcoran had a meeting with Roscoe H. Hillenkoetter, the new director of the CIA. Hillenkoetter arranged for Corcoran to meet Frank Wisner, the director of the Office of Policy Coordination. Wisner was in charge of the CIA's covert operations.
On 1st November, 1948, Corcoran signed a formal agreement with the CIA. The agreement committed the agency to provide up to $500,000 to finance an CAT airbase, and $200,000 to fly agency personnel and equipment in and out of the mainland, and to underwrite any shortfall that might result from any hazardous mission. Over the next few months CAT airlifted personnel and equipment from Chungking, Kweilin, Luchnow, Nanking, and Amoy.
In January, 1950, Civil Air Transport (CAT) relocated its base of operations to the island of Formosa, where Chiang Kai-shek had established his new government. The following month, the Soviet Union and China signed a mutual defense pact. Two weeks later, President Harry S. Truman signed National Security Directive 64, which stated that "it is important to United states security interests that all practical measures be taken to prevent further communist expansion in Southeast Asia."
The support of the government in Formosa was to become a key aspect of this policy. In February 1950, Frank Wisner began negotiating with Chennault and Corcoran for the purchase of CAT. "In March, using a 'cutout' banker or middleman, the CIA paid CAT $350,000 to clear up arrearages, $400,000 for future operations, and a $1 million option on the business. The money was then divided among the airline's owners, with Corcoran and Youngman receiving more than $100,000 for six years of legal fees." Paul Helliwell was put in charge of this operation. His deputy was Desmond FitzGerald. Helliwell's main job was to help Chiang Kai-shek to prepare for a future invasion of Communist China. The CIA created a pair of front companies to supply and finance the surviving forces of Chiang's KMT. Helliwell was put in charge of this operation. This included establishing the Sea Supply Corporation, a shipping company in Bangkok.
The CIA now launched a secret war against China. An office under commercial cover called Western Enterprises was opened on Taiwan. Training and operational bases were established in Taiwan and other offshore islands. By 1951 Chiang Kai-shek claimed to have more than a million active guerrillas in China. However, according to John Prados, " United States intelligence estimates at the time carried the more conservative figure of 600,000 or 650,000, only half of whom could be considered loyal to Taiwan."
Claire Lee Chennault died of lung cancer in New Orleans on 27th July, 1958.
Corcoran, ever the loyal soldier to Roosevelt, agreed to help and visited his old friends in the Senate, including Senators Burton Wheeler of Montana, Worth Clark of Montana, and Robert La Follette of Wisconsin. A few weeks later Corcoran reported to the president that while these men were opposed to involvement in Europe, he did not believe that a modest aid program to China would cause them serious concern.

After evaluating Corcoran's optimistic assessment, Roosevelt conveyed to him, again through Lauchlin Currie, that he wanted to establish a private corporation to provide assistance to the Chinese. Corcoran thought the president's idea was ingenious, and later wrote that "if we'd tried to set up a government corporation per se, or do the work out of a Federal office, there would have been devil to pay on the Hill." Instead, Corcoran set up a civilian corporation, which he chartered in Delaware and, at the suggestion of the president, named China Defense Supplies. It would be, as Corcoran later recalled, "the entire lend lease operation" for Asia.

In order to provide the company with the stamp of respectability, Roosevelt arranged for his elderly uncle, Frederick Delano, who'd spent a lifetime in the China trade, to be co-chairman. The other chairman was T. V. Soong, Chiang's personal representative who frequently visited Washington to lobby for aid to his government. Soong, a Harvard graduate, was also Chiang's finance minister, as well as his banker and his brother-in-law. And he was a close friend of David Corcoran, whom he had met when the younger Corcoran was working in the Far East.

After getting the green light to proceed with the establishment of China Defense Supplies, Corcoran hired a staff to run the company. With Delano and Soong as the chairmen, Corcoran went about appointing a politically savvy management team. First, he asked his brother David to take a leave of absence from Sterling to become president. Although David Corcoran was an extremely competent manager, Sterling was then under investigation by the Department of Justice, and David's appointment could be cynically viewed as an attempt by Tommy to protect his brother from the investigation by shielding him with a quasi-government role. Next he appointed a bright young lawyer named Bill Youngman as general counsel. Youngman had previously clerked for Judge Learned Hand, and after Ben Cohen recommended him, he landed a job as general counsel at the Federal Power Commission. To direct the program from China, Corcoran chose Whitey Willauer, who had been his brother Howard's roommate at Exeter, Princeton, and Harvard Law School. Corcoran had previously helped Willauer get a job at the Federal Aviation Administration and he knew Willauer was "crazy about China." After helping to establish and run China Defense Supplies, Willauer moved over to the Foreign Economic Administration, where he supervised both Lend-Lease to China and purchases from China. Lastly, Corcoran arranged for the Marine Corps to detail Quinn Shaughnessy, who, like Corcoran, was a graduate of Harvard Law School. Shaughnessy was given the task of locating and acquiring goods, supplies, and weapons For the Chinese. Corcoran took no title himself other than outside counsel for China Defense Supplies. He paid himself five thousand dollars to set up the company, but didn't want his affiliation with it to interfere with his incipient lobbying practice.