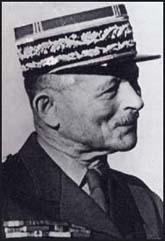 Maxime Weygand was born in Brussels, Belgium, on 21st January, 1867. The illegitimate son of a Polish woman he was brought up on the estate of Empress Charlotte and educated in Paris before being sent to St Cyr (1886-88).
Weygand joined the French Army and after reaching the rank of colonel was appointed chief of staff to Marshal Ferdinand Foch. During the First World War he was promoted to brigadier general (1916) and lieutenant general (1918).
In July 1920, Weygand was sent to Poland to help Marshal Josef Pilsudski. Leading an army of 600 French officers, Weygand defeated the Red Army in Warsaw on 24th August.
In 1923 Weygand was appointed as high commissioner in Syria and held the post until becoming Chief of General Staff in 1930. The following year Weygand was replaced by General Maurice Gamelin and he moved to head of the French Army.
Weygand was forced to retire from the army in 1935 when he reached the age of sixty-eight. He continued to be involved in right-wing and was a harsh critic of the Leon Blum and his Popular Front government.
On the outbreak of the Second World War Gamelin recalled Weygand to head the Eastern Mediterranean Theatre of Operations. While in this post Weygand made plans for an Allied second front in the Balkans.
Although Weygand was now seventy-three years old, prime minister Paul Reynaud appointed him as Allied commander in chief on 17th May 1940. He devised what became known as the Weygand Plan. This involved General Gaston Billotte and the 1st French Army Group attacking the German Army at Cambrai while General John Gort and the British Expeditionary Force (BEF)attempted to link up around Bapaume.
When the Germans continued to advance Weyland regrouped his forces south of the Somme. He held his position until 5th June when his troops were forced to withdraw towards the port of Dunkirk.
On 13th June Weygand recommended that the French government sought an armistice with Germany. He served briefly as minister of defence under Henri-Philippe Petain. After clashing with Pierre Laval he was sent to Algeria as commander in chief of land and air forces in the African colonies.
The Germans were suspicious of Weygand and forced Petain to recall the general to France in November 1941. He retired and in January 1942 rejected approaches by the Allies to join the war against Nazi Germany.
When the Allies invaded Algeria and Morocco on 8th November, Petain recalled Weygand who advised him to declare war on Germany. This resulted in Weygand being arrested by the Schutz Staffeinel (SS) and was imprisoned until being liberated on 5th May 1945.
After the war Weygand was charged with collaborating with Nazi Germany. Although found guilty he was granted leniency and was released on 9th May 1946. Maxime Weygand died in Paris in 1965.