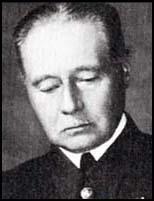 Maurice Gamelin, the son of a general, was born in Paris, France, on 20th September 1872. A good student, Gamelin graduated first in his class at St. Cyr in 1891 and joined the 1st Regiment of Algerian Tirailleurs.
In 1906 he was promoted to captain and was selected by General Joseph Joffre to serve as his aide. He later commanded a chasseur battalion was was recalled to Joffre's staff just before the outbreak of the First World War. Promoted to brigadier general in 1916 he served with distinction throughout the war.
Gamelin remained in the French Army and in January 1930 was appointed as deputy commander of the General Staff under Maxime Weygand. The following year he was made Army Inspector General.
Gamelin replaced Weygand as commander of the General Staff when he retired in 1935. The post was expected to go to Alphonse Georges but the prime minister Edouard Daladier, thought he was too right-wing and appointed Gamelin instead.
On the outbreak of the Second World War Gamelin made his headquarters in the Chateau of Vincennes. He assured Daladier that France had the greatest army in the world and was shocked when it was easily defeated by the German Army during the Western Offensive. On 17th May 1940 he was sacked and replaced by General Maxime Weygand.
Gamelin was arrested by the Vichy authorities in September 1940, and was held in France before being deported to Germany in 1943. He was liberated in 1945 and published his memoirs in 1946. Maurice Gamelin died in 1958.