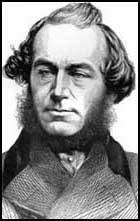 John Leech, the only son of a Coffee House proprietor, was born in London on 29th August, 1817. As his biographer, Simon Houfe, has pointed out: "The young John Leech was brought up therefore in an atmosphere of sociability, debate, and knowledge of the public prints, mixing with politicians, businessmen, and journalists in his father's public rooms."
Leech was educated at Charterhouse where he became friends with William Makepeace Thackeray. At the age of sixteen he went to St. Bartholomew's to study medicine. Leech's teachers should became aware of Leech's superb anatomical drawings and began commissioning him to paint portraits. The money was needed as his father's business had failed and in the court of bankruptcy. The author of John Leech and the Victorian Scene (1984) has argued: "The effect of this collapse, a great disgrace in Victorian London, was to colour the remainder of the younger Leech's life and leave a great scar between father and son."
Leech left medical school in 1834 and tried to make a living from drawing and painting. His first known published work was a pamphlet called Etchings and Sketchings (1835) and included drawings of street characters such as cabmen, policemen, street musicians, etc. For the next few years he produced a series of humourous pamphlets including the Comic Latin Grammar, The Fiddle-Faddle Fashion Book and the Children of Mobility.
I find that there are so many mechanical difficulties, complications, entanglements, and impossibilities, in the way of the project I was revolving in my mind when I wrote to you last, as to render it quite impracticable. I perceive that it could not be satisfactory to you, as giving you no fair opportunity; and that it would, in practice, be irksome and distressing to me. I am therefore compelled to relinquish the idea, and for the present to deny myself the advantage of your valuable assistance.
(2) John Leech, letter to Charles Adams (17th April, 1848)
Mark Lemon and I were special constables on Monday last. You would have laughed to see us on duty, trying the area gates, etc. Mark continually finding excuses for taking a small glass of brandy and water. Policeman's duty is no joke. I had to patrol about from ten at night till one in the morning, and heartily sick of it I was. It was only my loyalty and extreme love of peace and order that made me stand it.

Queen Victoria: Tell me, dearest Albert, have you any railway shares?
John Leech, Punch Magazine (1845)