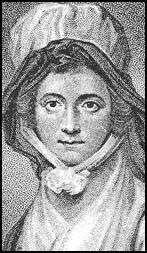 Anna Seward, the first of two surviving children of Thomas Seward and his wife, Elizabeth Hunter Seward, was born on 12th December 1742 in Eyam, Derbyshire. She moved to Lichfield in 1755 when her father was appointed as canon of Lichfield Cathedral. In 1756 five-year-old Honora Sneyd, whose mother had just died, was adopted by the Seward family. (1)
Anna's father was a poet and he introduced her to John Milton at the age of two and she was writing religious verse at ten, but her parents took fright at her growing erudition and brought an end to her studies. (2)
However, she met the poet and scientist, Erasmus Darwin, in 1757 and he encouraged her to write poetry. She later wrote a memoir of Darwin: "He was inclined to corpulence; his limbs too heavy for exact proportion... Florid health, and the earnest of good humour, a sunny smile, on entering a room, and on first accosting his friends, rendering, in his youth, that exterior agreeable, to which beauty and symmetry had not been propitious. He stammered extremely; but whatever he said, whether gravely or in jest, was always worth waiting for, though the inevitable impression it made might not always be pleasant to individual self-love." (3)
Anna Seward spent a great deal of time with Erasmus and Mary Darwin. "All her critical knowledge, she said, came from him (Darwin)." As her father disapproved of this activity her writing was done in secret whereas in public she confined herself to music and sewing. Her friendship with Mary, turned her against the idea of marriage and childbirth. (4)
Darwin introduced her to Thomas Day, another poet who lived in the town. Seward rejected his proposal of marriage but they continued to be good friends. (5) Day was unlucky in love and he eventually decided that, if his ideal woman did not exist, she would have to be created. Steward later recalled: "He (Thomas Day) resolved, if possible, that his wife should have a taste for literature and science, for moral and patriotic philosophy. So might she be his companion in that retirement, to which he had destined himself; and assist him forming the minds of his children to stubbon virtue and high exertion. He resolved also, that she should be simple as a mountain girl, in her dress, her diet and her manners, fearless and intrepid as the Spartan wives and Roman heroines." (6)
In 1769 he selected eleven-year-old Ann Kingston (later renamed Sabrina Sidney) from an orphanage in Shrewsbury. At the Coram Fields Foundling Hospital he selected the twelve-year-old Dorcas Car (later renamed Lucretia). (7) Anna described Sabrina as "a clear, auburn brunette, with dark eyes, glowing bloom and chestnut tresses", and Lucretia as her balanced opposite, "fair, with flaxen locks and light eyes". (8)
Day sent the two girls to Avignon to see which of them he could educate into becoming a suitable wife for himself. After eight months the trio returned to England. He decided that Lucretia was "either stupid or impossibly stubborn" and apprenticed her to a milliner on Ludgate Hill. Later she married a linen-draper. (9)
Day considered Sabrina as a possible wife. In 1770, aged 13, she went to live with him at Stowe House in Lichfield. She was described as a "sweet-voiced beauty, with long eyelashes and auburn ringlets". Despite his efforts, Sabrina did not develop as he wished and by the time she was 14 she had been sent to a girls' boarding school in Sutton Coldfield. (10) Anna Seward had been closely involved in this experiment and claimed that it made him doubt the truth of the ideas of Jean-Jacques Rousseau. "His trust in the power of education faltered". (11)
Honora Sneyd and John Saville
Following the sudden death of her sister Sarah, the friendship between Anna Seward and Honora Sneyd became intense. Honora was both beautiful and clever. In 1771 she rejected a proposal of marriage from Thomas Day and returned to her father's house. Two years later became the second wife of Richard Lovell Edgeworth and the stepmother of four children, including Maria Edgeworth. (12)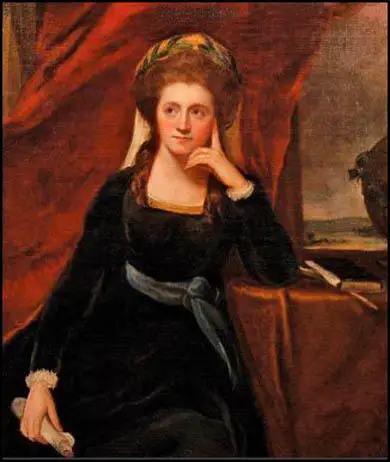 Anna became romantically attached to John Saville, a vicar in Lichfield. He was a married man and his wife refused to let her into the house. Saville walked out on his family and moved into the house next door. (13) Anna, now aged 23, was stopped from seeing Saville and "Mrs Seward responded by virtually keeping Anna under house arrest". She saw it as an attempt to control "her rights as a woman". (14)
Anna attempted to explain her view of the situation: "If they attempt further persecution the consequences will be more desperate. I loved Saville for his virtues. He is entangled in a connection with the vilest of women and the most brutally despicable. He cannot be my husband but no law on earth or heaven forbids that he should be my friend or debars us the liberty of conversing together while the conversation is innocent." (15)
According to her biographer, Sylvia Bowerbank, "Throughout her life, Seward's main occupations were managing the family household, keeping up a wide correspondence with both famous and ordinary people, and writing poetry and criticism, when time allowed. As the only surviving child of invalid parents, Seward decided that she was required to care first for her ailing mother... and then for her beloved father, whose increasingly diminished capacities of body and mind required, she claimed, that she develop stationary habits and limited ambitions". (16)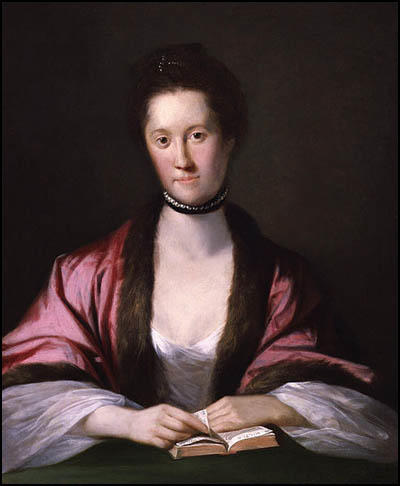 Anna remained close to Honora Sneyd and was devastated by her death from consumption in May 1780. (17) "Seward grieved the loss of Honora Sneyd throughout her life. Among the recurrent themes of Seward's best known poetry are Honora's beauty, the mutual joys of the Seward-Sneyd friendship, their alienation after Sneyd's marriage, and an enduring sense of loss". (18)
Erasmus Darwin established a small literary circle in Lichfield that included Anna Seward, Thomas Day and Richard Lovell Edgeworth. (19) In 1780 Anna Seward published Elegy on Captain Cook (1780). This was followed by a poem Monody on Major Andrè (1781) on John André, who was hanged as a British spy in 1780. Seward's most ambitious work was Louisa: a Poetical Novel, in Four Epistles (1784). It was a great success and was reprinted five times in the next twelve months. (20)
Anna Seward also became friends with the poet, essayist, moralist and literary critic, Samuel Johnson, however, she took umbrage at Johnson's dismissal of Lichfield as a cultural backwater. Seward also got to know Johnson's friend, James Boswell, who asked her to send him "a lock of that charming auburn hair I admired so much the delicious morning I was last with you". Anna refused to become romantically involved with Boswell and only sent him a lock of hair on the understanding that they had a "chaste friendship". (21)
After the publication of The Life of Johnson, an acrimonious public quarrel developed between Seward and Boswell. She argued that Boswell's idolatry of Johnson led him to "suppress evidence of Johnson's despotic behaviour and its vicious effects... which she obligingly supplied to Boswell at his request, detailing Johnson's public mortification of a young woman, Jane Harry, for converting to Quakerism". In her letters Seward complained about Johnson's "social bullying and his gloomy misanthropy". (22)
When her father died in 1790, he left her an independent income of £400 annually. Seward now resumed her relationship with John Saville and she became his daily companion. (23) She continued to write her Original Sonnets on Various Subjects; and Odes Paraphrased from Horace was published in 1799. Erasmus Darwin died on 18th April 1802 and two years later she published Memoirs of the Life of Dr. Darwin (1804), a biography of Darwin's early life in Lichfield, that reveals his idiosyncratic genius as a doctor, inventor, and writer. (24)
Anna Seward died of scorbutic fever at her home on 25th March 1809.
Apart from her first seven years in Eyam, Anna Seward lived all her life in Lichfield, from the age of thirteen on, in the same house, the bishop's palace in the grounds of Lichfield Cathedral. According to Seward, her adolescent years in Lichfield were Edenic; the sisters wandered in the cathedral close or did needlework and read to each other in the open air.

When Anna was fourteen, five-year-old Honora Sneyd, whose mother had just died, was adopted by the Seward family. Following the sudden death of Sarah in 1764, the friendship between Seward and Sneyd became intense; for the next six years, they had the daily pleasure of each other's company. Much to Seward's regret, in 1771, Honora Sneyd returned to her father's house after living for fourteen years with the Sewards....

Seward grieved the loss of Honora Sneyd throughout her life. Among the recurrent themes of Seward's best known poetry are Honora's beauty, the mutual joys of the Seward-Sneyd friendship, their alienation after Sneyd's marriage, and an enduring sense of loss. Seward's long-lived love for Sneyd and for her sister is inscribed on the very landscape of Lichfield in such poems as 'The Anniversary', 'Time Past', and 'Epistle to Miss Honora Sneyd … from the grave of a Suicide'. Judging by the satirical comments Seward makes on married couples and her praise of the achievements of unmarried women, she came to value highly the independence of the single life.
Dr. Darwin... was inclined to corpulence; his limbs too heavy for exact proportion... Florid health, and the earnest of good humour, a sunny smile, on entering a room, and on first accosting his friends, rendering, in his youth, that exterior agreeable, to which beauty and symmetry had not been propitious. He stammered extremely; but whatever he said, whether gravely or in jest, was always worth waiting for, though the inevitable impression it made might not always be pleasant to individual self-love.
He (Thomas Day) resolved, if possible, that his wife should have a taste for literature and science, for moral and patriotic philosophy. So might she be his companion in that retirement, to which he had destined himself; and assist him forming the minds of his children to stubbon virtue and high exertion. He resolved also, that she should be simple as a mountain girl, in her dress, her diet and her manners, fearless and intrepid as the Spartan wives and Roman heroines.
(15) Anna Seward, diary entry (May, 1771)
(21) Donna Heiland, Swan Songs: the Correspondence of Anna Seward and James Boswell (1992) pages 386-387