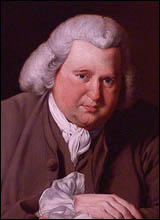 Erasmus Darwin, the seventh child of Robert Darwin and Elizabeth Hill Darwin, was born on 12th December 1731. His father was a lawyer who came from a wealthy family. He was sent to the Chesterfield School in 1741 and in 1750 became a student at St John's College, where he studied classics and mathematics.
After leaving Cambridge University he studied medicine in Edinburgh which was, at that time, a major centre for medical education in Europe. Darwin established his first medical practice in Nottingham in 1756 but soon afterwards moved to Lichfield. The following year he married Mary Howard and over the next few years had three children, Charles, Erasmus and Robert. (1)
Anna Seward met Darwin for the first time in 1757. "Dr. Darwin... was inclined to corpulence; his limbs too heavy for exact proportion... Florid health, and the earnest of good humour, a sunny smile, on entering a room, and on first accosting his friends, rendering, in his youth, that exterior agreeable, to which beauty and symmetry had not been propitious. He stammered extremely; but whatever he said, whether gravely or in jest, was always worth waiting for, though the inevitable impression it made might not always be pleasant to individual self-love". (2) Another source commented on his "pock-marked face" and "stooping shoulders" that made him "look twice his age". (3)
Erasmus Darwin and the Lunar Society
While living in Litchfield he became friends with Matthew Boulton, the owner of a company in Birmingham that employed 20,000 people. At his Soho Manufactory, considered to be Britain's very first factory made small metal goods such as "gold and silver toys produced trinkets, snuff-boxes, inkstands... and steel toys, chiefly buckles for both shoes and knee-breeches". (4)
Jenny Uglow, the author of The Lunar Men (2002), suggested that "The chief bond between them was the love of invention and experiment. Very quickly they realized how they could complement each other. Darwin the university-educated theorist, Boulton the man with the technical know-how. equally outspoken, energetic and ebullient, they were two sides of a coin." (5)
Darwin was interested in natural philosophy and mechanical invention. In 1757 he published a paper where he provided details of an experiment that he carried out which proved that electricity did not affect the mechanical properties of air. A second paper, on his treatment of a patient who was spitting up blood, was published in Philosophical Transactions in 1760. The following year Darwin became a fellow of the Royal Society.
In 1768 Darwin and Boulton formed what became known as the Lunar Society of Birmingham. Other members included Josiah Wedgwood, Joseph Priestley, James Brindley, Thomas Day, William Small, John Whitehurst, John Robison, Joseph Black, William Withering, John Wilkinson, Richard Lovell Edgeworth and Joseph Wright. This group of scientists, writers and industrialists discussed philosophy, engineering and chemistry. (6)
As Maureen McNeil has pointed out: "These innovating men of science and industry were drawn together by their interest in natural philosophy, technological and industrial development, and social change appropriate to these concerns. The society acquired its name because of the practice of meeting once a month on the afternoon of the Monday nearest the time of the full moon, but informal contacts among members were also important." (7)
Boulton's factory used machines performing tasks such as turning lathes and stamping sheet metal. The engines of these machines were driven by a water mill, but the water source was always running dry, either from drought or diversion to the Birmingham Canal. Boulton and some of his friends at the Lunar Society had many discussions about the possibility of developing an engine powered by steam. (8) Darwin was especially involved in these experiments but he had to admit that he was unable to overcome the problems that Boulton faced. (9)
James Watt, eventually came up with an effective steam-engine. Watt and Boulton formed a new company together. Roger Osborne, the author of Iron, Steam and Money: The Making of the Industrial Revolution (2013) has argued: "The two men instantly knew they could work together. Perhaps Watt saw that Boulton was the necessary complement to his own gloomy character - an energetic optimist who would carry him through his difficulties - while Boulton surely recognised the seriousness of Watt's character.... Watt was delighted not just by the prospect of investment hut especially by Boulton's personal enthusiasm." (10)
Darwin continued his work as a doctor and scientist. He kept a book in which he recorded medical case notes, reflected on meteorology, and made mechanical designs of spinning machines, water pumps, and canal locks. "A keen inventor, among his many other mechanical contrivances were a new steering mechanism for carriages, a copying machine, and even a mechanical bird". He also developed a mechanical copying machine and sent the first duplicated letter to the politician Charles Greville. (11)
Darwin had always written poetry and he formed a small literary circle in Lichfield. This included Anna Seward, Thomas Day, and Richard Lovell Edgeworth. Another reason for his poetry writing during this period was his love for Elizabeth Pole, who was not only beautiful but married, and therefore unobtainable. Darwin was almost thirty years older that Elizabeth who was in her late twenties. (12) Elizabeth was described as having "agreeable features; the glow of health; a fascinating smile; a fine form, tall and graceful; playful sprightliness of manners; a benevolent heart and maternal affection." (13)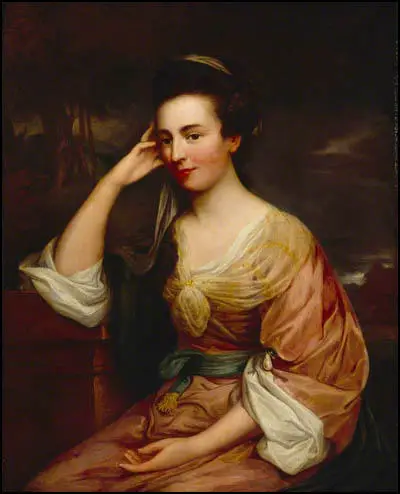 Mary Darwin became unwell. According to William Small she became much worse in February 1769. (14) She had attacks of violent pain in her head and on her right side, near her liver. Darwin prescribed opium but the more she took the less effect it had and she began supplementing it with wine and brandy. It was claimed she was often drunk and delirious. Mary told her husband that it was "hard so early in life to leave her children and her husband she loved so much - pray take care of yourself and them". (15)
Mary Darwin died on 30th June 1770. He wrote few letters following his wife's death and stopped doing scientific experiments. A month later he employed the seventeen-year-old Mary Parker to look after his four-year-old son, Robert. Parker became his mistress and she gave birth to Susan in May 1772. Mary was born two years later. However, he never married Mary. As Jenny Uglow pointed out: "however liberal his views, class seemingly ruled out the possibility of marriage". (16)
Darwin was an expert on, and advocate of, technological innovation. He recognized the need for good transport systems to facilitate industrialization and, as well as designing canal lifts, he campaigned for canals. This included the Trent & Mersey Canal. The canal began within a few miles of the River Mersey, near Runcorn and finished in a junction with the River Trent in Derbyshire. It is just over ninety miles long with more than 70 locks and five tunnels. At the time it was described as the "greatest civil engineering work built in Britain." (17)
On 27th November 1780, Elizabeth Pole's 63-year-old husband died. She was "thirty-three, dashing, witty and rich: half the young men in the country were after her". Darwin, who was "forty-nine, stout, stuttering and lame, with two grown sons, and two illegitimate daughters" appeared to have little chance as she had told a friend that he was "too old for me". However, despite this objection, she married Darwin on 6th March 1781. In the spring of 1782 Darwin and Elizabeth had their first child, Edward: three more boys and three girls followed over the next eight years. (18)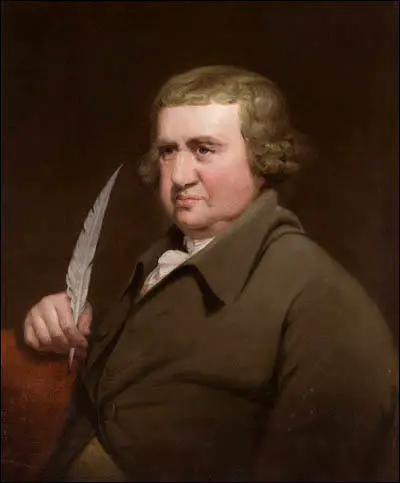 The first volume of what Darwin described as his medico-philosophical work, Zoonomia: The Laws of Organic Life, appeared in 1794. (19) Drawing on the work of his great friend, Joseph Priestley, the book offered a theory of biological learning which included both mind and body. "Opposed to notions of innate ideas, Darwin showed that ideas resulted from mental development through habits, often based on imitation. Hence he attributed the link between the wavy line and the sense of beauty, proposed by William Hogarth, to the infant's experience of the mother's breast. Darwin's contribution to associationist psychology was to sketch a sequential development of the faculties, through animal interaction with their environment, that fully integrated body and mind: from simple irritative responses to those of volition and association". (20)
The second volume of Zoonomia: The Laws of Organic Life appeared in 1796. It included a catalogue of diseases, classified according to their proximate causes, together with details of substances for use in medical treatment. This included Priestley's recommendation that carbonated water would help people suffering from kidney stones. (10a) The book also included a chapter where he "formulated a theory of the development of life, free from the guiding hand of the Creator". (21) It has been argued by his biographer, Desmond King-Hele, that "too old and hardened to fear a little abuse" he was no longer cowed by the wrath of his religious friends. (22)
Darwin wrote: "Would it be too bold to imagine that in the great length of time since the earth began to exist, perhaps millions of ages before the commencement of the history of mankind, would it to be too bold to imagine that all warm-blooded animals have arisen from one living filament, which the great first cause endowed with animality, with the power of acquiring new parts, attended with new propensities, directed by irritations, sensations, volitions and associations; and thus possessing the faculty of continuing to improve by its own inherent activity; and of delivering down those improvements by generation to its posterity, world without end!" (23)
Members of the Lunar Society were radical reformers. They supported freedom of the press, religious toleration, parliamentary reform and opposed the slave-trade. Darwin also welcomed the French Revolution. the challenging of the old order in France. Conservatives like Edmund Burke regarded their views as "insidious and foreign". In July 1791, Darwin's close friend, Joseph Priestley, had his house burnt down and his scientic equipment destroyed by anti-radical mob. Darwin was subjected to political attacks by George Canning and others in the conservative press. Other writers accused Darwin of holding "atheistic opinions". (24)
Erasmus Darwin died on 18th April 1802.
Dr. Darwin... was inclined to corpulence; his limbs too heavy for exact proportion... Florid health, and the earnest of good humour, a sunny smile, on entering a room, and on first accosting his friends, rendering, in his youth, that exterior agreeable, to which beauty and symmetry had not been propitious. He stammered extremely; but whatever he said, whether gravely or in jest, was always worth waiting for, though the inevitable impression it made might not always be pleasant to individual self-love.
Darwin's ideas were forged in the cauldron of the British reaction to the French Revolution, and fears of Jacobinism were crucial in the response to his books. Like most members of the Lunar Society, Darwin applauded the challenging of the old order in France...

As advocates of social and political change, members of the Lunar Society were linked to the revolutionary cause. Darwin also espoused support for the campaign against the slave trade, for religious toleration, and for freedom of the press. To many of their contemporaries the hallmarks of Jacobinism were evident in Lunar Society interests and activities. The presence of dissenters in their ranks and the support for dissenters' rights were further signs of this link. Darwin, like many supporters of the revolution, assumed that knowledge would lead automatically to power and morality: he set out to unveil nature and society in charts, portraits, or pictures of various facets of the natural world. The heady faith in reason and progress, which Burke and other critics of the French Revolution regarded as insidious and foreign, animated Darwin's writing.

The members of the Lunar Society paid a high price for their sympathy with the French revolutionary cause. This was exacted most obviously in the Birmingham riots of July 1791, sparked by a dinner held to celebrate the capture of the Bastille, in which the city establishment seems to have pitted a mob against members of the commercial and industrial (and largely dissenting) middle class. A main target for this attack was Joseph Priestley, who lost his home and scientific equipment and fled Birmingham, but other Lunar Society members were also threatened. Darwin suffered a related form of persecution. He was subjected to political satire in a publication by Pitt's under-secretary for foreign affairs, George Canning, in collaboration with Hookham Frere and George Ellis, titled 'The Loves of the Triangles: a Mathematical and Philosophical Poem, Inscribed to Dr. Darwin', which appeared in the Anti-Jacobin, or, Weekly Examiner in 1798. Darwin's Botanic Garden and Godwin's Enquiry Concerning Political Justice (1793) were the combined targets of this conservative attack. Despite the popularity of The Botanic Garden, Darwin's later work, especially The Temple of Nature, came under attack as reviewers condemned his theories as atheistic and materialistic.