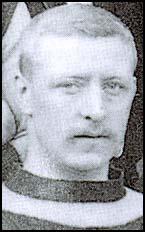 Robert Chatt was born in Barnard Castle in August 1870. He played football for Cleator Moor and Middlesbrough Ironopolis before joining Aston Villa in August 1893.
Aston Villa won the First Division of the Football League championship in the 1893-94 season. The club scored 84 goals in 30 games. The main contributors included John Devey (20), Dennis Hodgetts (12) and Charlie Athersmith (10). Defenders, James Cowan (centre-half), Jack Reynolds (right-half) and Willie Groves (left-half) were also key members of the team. Chatt only played in 13 games that season.
Chatt became a regular in the 1894-95 season. Aston Villa finished in third place with Chatt scoring 10 goals in 28 games.
Aston Villa had victories over Derby County (2-1), Newcastle United (7-1), Nottingham Forest (6-2), Sunderland (2-1) to reach the 1895 FA Cup Final against West Bromwich Albion. Robert Chatt scored the only goal of the game after 39 seconds.
Aston Villa won the First Division title in 1895-96. However, Chatt only played in 17 games and found it difficult to play in an attack that scored 78 goals and included players such as Johnny Campbell (26), John Devey (16), John Cowan (9), Charlie Athersmith (8), John Cowan (9) and Dennis Hodgetts (3). As Philip Gibbons pointed out in Association Football in Victorian England: "Aston Villa had twice won the League Championship, as well as the FA Cup, during the three previous seasons, with a team generally acknowledged as the finest in the land."
Chatt decided to retire from professional football in June 1898. He now joined Stockton and later won a FA Amateur Cup-winner's medal with the club. He also played for South Shields and Willington Athletic before becoming the trainer of Doncaster Rovers (1904-1905). He held similar posts with Port Vale (1905-1906), Manchester City (1906-1916), South Shields (1919), Caerphilly (1921-1922) and Newport County (1922-1931).
Robert Chatt died in 1935.