Francis Dodd was born in Glasgow in 1874. He trained at the Glasgow School of Art and developed a reputation as one of Britain's leading portrait artists.
In 1916 Charles Masterman, the head of the War Propaganda Bureau (WPB), recruited Dodd to replace Muirhead Bone, as Britain's official war artist on the Western Front. While in France he produced more than thirty portraits of senior military officers.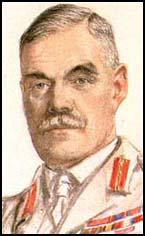 In 1929 he became a Trustee of the Tate Gallery and a RA in 1935.
Francis Dodd died in Blackheath in 1935.