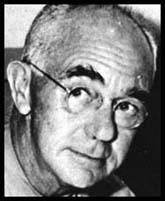 Richmond Turner was born in Portland, Oregon, on 22nd May, 1885. He attended the United States Naval Academy and graduated as a gunnery specialist in 1908.
Turner continued to study and attended the Naval War College where he eventually became head of the Strategy Section. However, he later returned to sea as captain of the Astoria. During this period he became known for his heavy drinking and abrasive manner.
In October, 1940, Turner became director of war plans at the Chief of Naval Operations (CNO). This involved the evaluation and dissemination of intelligence about the enemy. Turner did not believe information that he received that the Japanese intended to attack on the US Pacific Fleet at Pearl Harbor and did not pass on warnings to Admiral Husband Kimmel.
In July 1942, Turner was placed in command of Amphibious Forces in the South Pacific. His first major operation was the Guadalcanal campaign that started on 7th August. Over the next eight months there were ten major land battles and seven major naval engagements in this area.
General Douglas MacArthur now developed what became known as his island hopping tactics. This strategy involved amphibious landings on vulnerable islands, therefore bypassing Japanese troop concentrations on fortified islands. This had the advantage of avoiding frontal assaults and thus reducing the number of American casualties. In August, 1943, Turner was placed in charge of the 5th Amphibious Forces in the Pacific with responsibility for this campaign.
Turner disagreed with Admiral Chester Nimitz about the plan to capture the Marshall Islands which he believed was "reckless and dangerous". Threatened with dismissal, Turner agreed to carry out the attack and as a result of the success of the campaign was promoted to the rank of vice admiral.
As head of the 5th Amphibious Forces Turner directed all subsequent major amphibious operations in the central Pacific. This included the assaults on Saipan (June, 1944), Iwo Jima (February, 1945) and Okinawa (April, 1945). In June he was promoted to admiral and was placed in charge of planning the invasion of Japan. This was called off after the Japanese surrender following the dropping of the atom bomb on Hiroshima and Nagasaki.
After the war Turner served as USN Representative on the UN Military Staff Committee. He retired on 30th June, 1947, to his home at Carmel, California. Now an alcoholic, Richmond Turner died on 12th February, 1961.