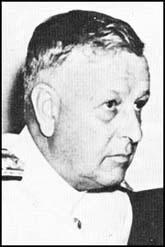 Husband Kimmel, the son of an army major, was born in the United States on 14th May 1882. He attended the United States Naval Academy at Annapolis and graduated in 1904 (13/62) and joined the United States Navy.
Kimmel, an ordnance specialist, became a rear admiral in 1937. Appointments included being head of Cruiser Division and commander of Cruisers of the Pacific Fleet.
In February 1941, Kimmel became the most senior admiral in the US Navy and was appointed Commander in Chief of the US Pacific Fleet. On Sunday, 7th December, 1941, 105 high-level bombers, 135 dive-bombers and 81 fighter aircraft attacked the the US Fleet at Pearl Harbor. In two hours 18 warships, 188 aircraft and 2,403 servicemen were lost in the attack.
Ten days after the attack Admiral Chester Nimitz became Commander in Chief of the US Pacific Fleet and Kimmel was removed from office. The subsequent investigations into the attack found Kimmel guilty of errors of judgement and not coordinating army-navy efforts to defend Hawaii. In May 1942, Kimmel decided to take early retirement.
During the Second World War Kimmel was employed by Frederick R. Harris Incorporated who did secret work for the navy. Husband Kimmel died at Groton, Connecticut, on 14th May 1968.