In 1942 the Manhattan Engineer Project was set up in the United States under the command of Brigadier General Leslie Groves. Scientists recruited to produce an atom bomb included Robert Oppenheimer (USA), David Bohm (USA), Leo Szilard (Hungary), Eugene Wigner (Hungary), Rudolf Peierls (Germany), Otto Frisch (Germany), Niels Bohr (Denmark), Felix Bloch (Switzerland), James Franck (Germany), James Chadwick (Britain), Emilio Segre (Italy), Enrico Fermi (Italy), Klaus Fuchs (Germany) and Edward Teller (Hungary).
Winston Churchill and Franklin D. Roosevelt were deeply concerned about the possibility that Germany would produce the atom bomb before the allies. At a conference held in Quebec in August, 1943, it was decided to try and disrupt the German nuclear programme. In February 1943, SOE saboteurs successfully planted a bomb in the Rjukan nitrates factory in Norway. As soon as it was rebuilt it was destroyed by 150 US bombers in November, 1943. Two months later the Norwegian resistance managed to sink a German boat carrying vital supplies for its nuclear programme.
Meanwhile the scientists working on the Manhattan Project were developing atom bombs using uranium and plutonium. The first three completed bombs were successfully tested at Alamogordo, New Mexico on 16th July, 1945. James Chadwick later described what he saw during the test: "An intense pinpoint of light which grew rapidly to a great ball. Looking sideways, I could see that the hills and desert around us were bathed in radiance, as if the sun had been turned on by a switch. The light began to diminish but, peeping round my dark glass, the ball of fire was still blindingly bright ... The ball had then turned through orange to red and was surrounded by a purple luminosity. It was connected to the ground by a short grey stem, resembling a mushroom."
By the time the atom bomb was ready to be used Germany had surrendered. James Franck and Leo Szilard drafted a petition signed by just under 70 scientists opposed to the use of the bomb on moral grounds. Franck pointed out in his letter to Truman: "The military advantages and the saving of American lives achieved by the sudden use of atomic bombs against Japan may be outweighed by the ensuing loss of confidence and by a wave of horror and repulsion sweeping over the rest of the world and perhaps even dividing public opinion at home. From this point of view, a demonstration of the new weapon might best be made, before the yes of representatives of all the United Nations, on the desert or a barren island. The best possible atmosphere for the achievement of an international agreement could be achieved if America could say to the world, "You see what sort of a weapon we had but did not use. We are ready to renounce its use in the future if other nations join us-in this renunciation and agree to the establishment of an efficient international control."
However, the advice of the scientists was ignored by Harry S. Truman, the USA's new president, and he decided to use the bomb on Japan. General Dwight Eisenhower agreed with the scientists: "I voiced to him my grave misgivings, first on the basis of my belief that Japan was already defeated and that dropping the bomb was completely unnecessary, and secondly because I thought that our country should avoid shocking world opinion by the use of a weapon whose employment was, I thought, no longer mandatory as a measure to save American lives. It was my belief that Japan was, at that very moment, seeking some way to surrender with a minimum loss of face."
At Yalta, the Allies had attempted to persuade Joseph Stalin to join in the war with Japan. By the time the Potsdam meeting took place, they were having doubts about this strategy. Winston Churchill in particular, were afraid that Soviet involvement would lead to an increase in their influence over countries in the Far East. On 17th July 1945 Stalin announced that he intended to enter the war against Japan.
President Truman now insisted that the bomb should be used before the Red Army joined the war against Japan. Leslie Groves, the head of the Manhattan Project, wanted the target to be Kyoto because as it had been untouched during previous attacks, the dropping of the atom bomb on it would show the destructive power of the new weapon. However, the Secretary of War, Henry Stimson, argued strongly against this as Kyoto was Japan's ancient capital, a city of immense religious, historical and cultural significance. General Henry Arnold supported Stimson and Truman eventually backed down on this issue.
President Truman wrote in his journal on 25th July, 1945: "This weapon is to be used against Japan between now and August 10th. I have told the Secretary of War, Mr Stimson, to use it so that military objectives and soldiers and sailors are the target and not women and children. Even if the Japs are savages, ruthless, merciless and fanatic, we, as leader of the world for the common welfare cannot drop this terrible bomb on the old capital or the new. He & I are in accord. The target will be a purely military."
Truman's military advisers accepted that Kyoto would not be targeted but insisted that another built-up area should be chosen instead: "While the bombs should not concentrate on civilian areas, they should seek to make a profound a psychological impression as possible. The most desirable target would be a vital war plant employing a large number of workers and closely surrounded by workers' houses."
Winston Churchill insisted that two British representives should witness the dropping of the atom bomb. Squadron Leader Leonard Cheshire and William Penny, a scientist working on the Manhattan Project, were chosen for this task. Churchill ordered them to learn "about the taqctical aspects of using such a weapon, reach a conclusion about its future implications for air warfare and report back to the Prime Minister."
General Thomas Farrell, Commander of the Manhattan Project, explained to Cheshire and Penny that they had produced two types of bomb. Fat Man relied upon implosion: a 12 lb sphere of plutonium would be abruptly squeezed to super-critically by the detonation of an envelope of explosive. Little Boy functioned by a gun mechanism which fired two subcritical masses of uranium 235 together.
President Harry S. Truman eventually decided that the bomb should be dropped on Hiroshima. It was the largest city in the Japanese homeland (except Kyoto) which remained undamaged, and a place of military industry. However, Truman, after listening from advice of General Curtis LeMay, refused permission for Leonard Cheshire and William Penny to witness the event. Leslie Groves, according to Cheshire, "said firmly that there was no room for either of us; in any case he couldn't see why we needed to be there, for we would receive a full written report and could ask to see any documentation we wanted."
On 6th August 1945, a B29 bomber piloted by Paul Tibbets, dropped an atom bomb on Hiroshima. Michihiko Hachiya was living in the city at the time: "Hundreds of people who were trying to escape to the hills passed our house. The sight of them was almost unbearable. Their faces and hands were burnt and swollen; and great sheets of skin had peeled away from their tissues to hang down like rags or a scarecrow. They moved like a line of ants. All through the night, they went past our house, but this morning they stopped. I found them lying so thick on both sides of the road that it was impossible to pass without stepping on them."
Later that day President Harry S. Truman made a speech where he argued: "The harnessing of the basic power of the universe. The force from which the sun draws its power has been used against those who brought war to the Far East. We have spent $2,000,000,000 (about $500,000,000) on the greatest gamble in history, and we have won. With this bomb we have now added a new and revolutionary increase in destruction to supplement the growing power of our armed forces. In their present form these bombs are now in production and even more powerful forms are in development."
Truman then issued a warning to the Japanese government: "We are now prepared to obliterate more rapidly and completely every productive enterprise the Japanese have above ground in any city. We shall destroy their docks, their factories and their communications. Let there be no mistake, we shall completely destroy Japan's power to make war. It was to spare the Japanese people from utter destruction that the ultimatum of July 26 was issued from Potsdam. Their leaders promptly rejected that ultimatum. If they do not now accept our terms they may expect a rain of run from the air the like of which has never been seen on this earth. Behind this air attack will follow sea and land forces in such numbers and power as they have not yet seen and with a fighting skill of which they have already become well aware."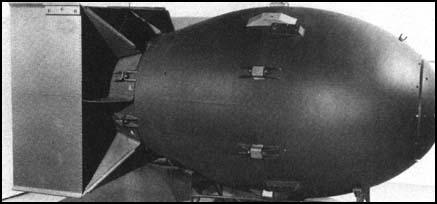 Hideki Tojo, Japan's Foreign Minister, told Emperor Hirohito on 8th August, 1945, that Hiroshima had been obliterated by an atom bomb and advised surrender. Others raised doubts about whether the United States had more than one of these bombs. The Supreme Council decided to convene a meeting on the morning of 9th August. As they had not immediately surrendered President Truman ordered that a second atom bomb should be dropped on Japan.
Major Charles Sweeney was selected to lead the mission and Nagasaki was chosen as the target. This time it was agreed that Leonard Cheshire and William Penny, could travel on the aircraft that was to take photographs of the attack on 9th August. When they reached Nagasaki they found the city covered in cloud and Kermit Beahan, the bombardier, was at first unable to find the target. Eventually, the cloud parted and Beahan dropped the bomb a mile and a half from the intended aiming point.
William Laurence was a journalist who was invited by Leslie Groves to be on Sweeney's aircraft: "We watched a giant pillar of purple fire, 10,000 feet high, shoot up like a meteor coming from the earth instead of outer space. It was no longer smoke, or dust, or even a cloud of fire. It was a living thing, a new species of being, born before our incredulous eyes. Even as we watched, a ground mushroom came shooting out of the top to 45,000 feet, a mushroom top that was even more alive than the pillar, seething and boiling in a white fury of creamy foam, a thousand geysers rolled into one. It kept struggling in elemental fury, like a creature in the act of breaking the bonds that held it down. When we last saw it, it had changed into a flower-like form, its giant petals curving downwards, creamy-white outside, rose-coloured inside. The boiling pillar had become a giant mountain of jumbled rainbows. Much living substance had gone into those rainbows."
Leonard Cheshire later recalled in his book, The Light of Many Suns (1985): "The ultra-dark glasses we each had round our foreheads to protect our eyes from the blinding light of the bomb were not needed because we were about fifty miles away. By the time I saw it, the flash had turned into a vast fire-ball which slowly became dense smoke, 2,000 feet above the ground, half a mile in diameter and rocketing upwards at the rate of something like 20,000 feet a minute. I was overcome, not by its size, nor by its speed of ascent but by what appeared to me its perfect and faultless symmetry. In this it was unique, above every explosion that I had ever heard of or seen, the more frightening because it gave the impression of having its immense power under full and deadly control.... The cloud lifted itself to 60,000 feet where it remained stationary, a good two miles in diameter, sulphurous and boiling. Beneath it, stretching right down to the ground was a revolving column of yellow smoke, fanning out at the bottom to a dark pyramid, wider at its base than was the cloud at its climax. The darkness of the pyramid was due to dirt and dust which one could see being sucked up by the heat. All around it, extending perhaps another mile, were springing up a mass of separate fires. I wondered what could have caused them all."
Fumiko Miura was a 16 year-old girl working in Nagasaki at the time: "I was doing some clerical work for the Japanese imperial army. At about 11 o'clock, I thought I heard the throbs of a B-29 circling over the two-storey army headquarters building. I wondered why an American bomber was flying around above us when we had been given the all-clear.... At that moment, a horrible flash, thousands of times as powerful as lightning, hit me. I felt that it almost rooted out my eyes. Thinking that a huge bomb had exploded above our building, I jumped up from my seat and was hit by a tremendous wind, which smashed down windows, doors, ceilings and walls, and shook the whole building. I remember trying to run for the stairs before being knocked to the floor and losing consciousness. It was a hot blast, carrying splinters of glass and concrete debris. But it did not have that burning heat of the hypocentre, where everyone and everything was melted in an instant by the heat flash. I learned later that the heat decreased with distance. I was 2,800m away from the hypocentre."
After a long debate Emperor Hirohito intervened and said he could no longer bear to see his people suffer in this way. On 15th August the people of Japan heard the Emperor's voice for the first time when he announced the unconditional surrender and the end of the war. Naruhiko Higashikuni was appointed as head of the surrender government.