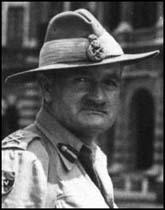 William Slim was born in Bristol, England, on 6th August, 1897. He joined the British Army on the outbreak of the First World War in 1914. Although he joined as a private his superiors soon discovered his potential and was commissioned in the Royal Warwickshire Regiment. Posted to Mesopotamia, he fought at Gallipoli where he was so badly wounded that he was invalided out of the army.
Slim managed to persuade the British Army to take him back and saw action on the Western Front before winning the Military Cross during the campaign to capture Baghdad.
In 1919 he was posted to India and the following year joined the 6th Gurkha Rifles. He attended the Quetta Staff College and in 1926 graduated top of his class. Slim also taught at Camberley Military College (1934-37) and in 1939 he was promoted to brigadier and became head of the Senior Officers' School at Belgaum, India.
On the outbreak of the Second World War Slim was given command of the 10th Indian Brigade and sent to Sudan. Wounded in January, 1941, Slim missed most of the campaign in Abyssinia and Eritrea. After he recovered he joined the staff of Archibald Wavell in the Middle East. Promoted to the rank of major general, he led his troops in the campaigns in northern Syria and Iran.
In March 1942, Slim was given command of all Allied troops in Burma. Outnumbered by the Japanese Army Slim was forced to withdraw to India two months later.
During the summer of 1943 Slim attempted to recapture Akyab but the offensive ended in failure. After Lord Mountbatten arrived to become head of the Southeast Asia Command Slim became commander of the 14th Army. In March 1944 he successfully defended Assam against the Japanese Army.
Slim used large-scale deception tactics in late 1944 to suggest a direct attack Mandalay. Instead the 4th Corps under Frank Messervy, captured the poorly defended Meiktila. When Japanese troops were sent to retake Meiktila, Slim sent his troops to attack Mandalay and after a long battle it was taken on 20th March, 1945. The Japanese, led by General Masaki Honda, retreated and the British Army was able to capture Rangoon on 3rd May.
Promoted to full general Slim now replaced Oliver Leese as commander of Allied Ground Forces in Southeast Asia. After the war Slim returned to England where he became head of the Imperial Defence College. In 1948 Slim succeeded Bernard Montgomery as Chief of the Imperial Staff.
After retiring from the British Army Slim published his highly acclaimed memoirs, Unofficial History (1959). Slim also served as Governor General of Australia (1953-60) before being raised to the peerage as the 1st Viscount Slim in 1960. William Slim died in London on 14th December 1970.