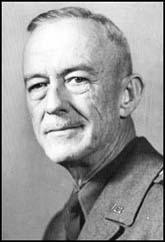 Courtney Hodges, the son of a newspaper man, was born in the United States on 5th January, 1887. He attended the West Point Military Academy but was forced to leave after a year because of poor test results.
In 1906 Hodges joined the United States Army as an infantry private and was commissioned three years later. He served with Dwight D. Eisenhower in the Philippines and with George Patton in Mexico.
Hodges was assistant commandant of the Infantry School at Fort Benning. Two years later he was promoted to commandant and given the rank of brigadier general.
In May 1941, Hodges became a major general and was appointed to head of the new Replacement and School Command in Birmingham, Alabama. This was followed by being put in charge of 3rd Army Headquarters in Texas.
General George Marshall sent Hodges to Britain in 1943 where he served under General Omar Bradley. In August 1944 Hodges replaced Bradley as head of the 1st Army.
Hodges took part in the D-Day landings and his troops were the first into Paris. After lead the 1st Army across France into Germany and was the first Allied commander to cross the Rhine where he joined forces with the Red Army.
In May 1945 Hodges was sent to the Far East to prepare for the invasion of Japan. However the dropping of the atom bomb on Hiroshima and Nagasaki brought the war to an end.
After the war Hodges and the 1st Army were based in Fort Sam Houston in Texas until his retirement in March 1949. Courtney Hodges died in San Antonio on 16th January 1966.
(1) Primo Levi, Survival in Auschwitz (1947)
Last spring the Germans had constructed huge tents in an open space in the Lager. For the whole of the good season each of them had catered for over 1,000 men: now the tents had been taken down, and an excess 2,000 guests crowded our huts. We old prisoners knew that the Germans did not like these irregularities and that something would soon happen to reduce our number.