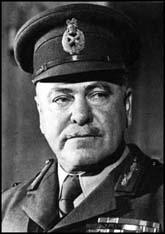 Thomas Blamey was born in Wagga-Wagga, Australia, on 24th January, 1884. Blamey worked as a school teacher before winning a commission in the Australian Corps in 1906. After a spell in India he was posted to England for service with the British Army.
In July, 1914, Blamey was promoted to major and on the outbreak of the First World War he was sent to Egypt as an intelligence officer. After three months at Gallipoli he went to the Western Front as a staff officer with the 2nd Australian Division. Later he served as chief of staff to General John Monash.
Blamey left the British Army in 1925 to become the commissioner of police in Victoria, Australia. He was considered an efficient administrator and was knighted in 1935. However, in 1937 he was forced to resign when it was discovered that he had concealed information about a case being investigated.
On the outbreak of the Second World War Blamey was made commander of the Australian forces in the Middle East. He served under General Archibald Wavell in Egypt and led the 1st Australian Corps in Libya and Greece.
Blamey was recalled to Australia when Japan entered the war. In May 1942 he took command of the Australian Army but lost operational control of his troops after General Douglas MacArthur became supreme allied commander of the South-West Pacific Area.
In 1950 Blamey became Australia's first field marshal. After retiring from the army he went into business. Thomas Blamey died on 27th May 1951.