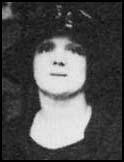 Mabel Russell was born in 1887. A famous actress she married Stanley Rhodes but he died in 1911 and six years later married Hilton Philipson.
A member of the Conservative Party, Mabel was elected for the Berwick on Tweed division of Northumberland in May 1923, in succession to her husband who had been unseated on petition. She held the seat until retiring in 1929.
Mabel Philipson died in 1951.