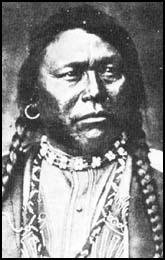 Ouray (the Arrow) was born in Taos, New Mexico, in 1820. He father was a member of the Ute tribe but his mother was an Apache. Well educated he learnt to speak both English and Spanish.
When his father died in 1860, Ouray became chief of the Tabeguache band of Utes. A close friend of Kit Carson, Ouray signed a peace treaty with the United States on 7th October, 1863.
In 1872 Ouray went to Washington to complain about the seizure of Ute lands by white settlers. Ouray pointed out that the land had been pledged to the tribe in perpetuity.
Nathan Meeker became the Indian agent of the White River Ute Reservation in 1878. He upset the Utes by trying to force them to become farmers. In September, 1879, Meeker called in the army to deal with the Utes. When he heard what was happening, Chief Douglas and a group of warriors killed Meeker and seven other members of the agency. This became known as the Meeker Massacre. The Utes also attacked Major Thomas Thornburgh and his troops heading for the White River Agency. In the fighting Thornburgh and nine of his men were killed.
Ouray now carried out peace negotiations with the American government. As a result the Utes were moved from Colorado and placed on a reservation in Utah. Ouray was rewarded with a $1,000 a year annuity.
Ouray died of Brights Disease on 27th October, 1880.