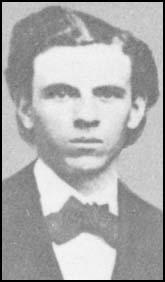 James Dolan was born in County Galway, Ireland, on 2nd May, 1848. Five years later his family moved to the United States. During the American Civil War he joined the Union Army and served for two years (1863-65) against the Confederate Army.
After the war Dolan moved to Lincoln County where he was employed as a clerk by another Irish immigrant, Lawrence Murphy. Within three years the two men were business partners. In 1874 the two men established the Murphy & Dolan mercantile and banking operation. John H. Riley, another Irish immigrant, also became a partner in this venture. The company was highly successful and won contracts to supply beef to both the Mescalero Apache Reservation and Fort Stanton.
On 9th May, 1877, Dolan murdered Hilario Jaramillo. He claimed that Jaramilo had threatened him with a knife and he was eventually acquitted of the crime.
Lawrence Murphy and his friends were disliked by the small farmers in Lincoln County as they were forced to pay high prices from Murphy & Dolan while at the same time they had to accept low prices for their cattle.
In 1876 Alexander McSween and John Tunstall set up a rival business. These two men were given the support of John Chisum, the owner of a large ranch and over 100,000 head of cattle. McSween and Tunstall now established J. H. Tunstall & Co, a shop and bank close to the one owned by Dolan, Murphy and Riley.
Dolan was furious at this development and attempted to goad Tunstall into a gunfight. Tunstall refused to use violence himself but he did recruit Billy the Kid to help him in his business dispute. On 18th February, 1878, Tunstall was killed by a gang of men that included William Morton, Jesse Evans and Tom Hill. This incident started the Lincoln County War.
Billy the Kid joined the Regulators, a group led by Dick Brewer that supported Alexander McSween. It was claimed that Tunstall had been murdered on the orders of Dolan and Lawrence Murphy. Rumours began to circulate that Dolan had offered $1,000 for anyone willing to murder McSween. Over the next few months the Regulators killed Sheriff William Brady, George Hindman, William Morton, Buckshot Roberts and others who they claimed they had been involved in the killing of John Tunstall.
On 19th July, 1878, McSween and his supporters, including Billy the Kid, were besieged by Sheriff George Peppin and a group of his men. McSween's house was set on fire and several people were shot dead as they came out of the house. This included the unarmed Alexander McSween. No one was ever convicted of this murder.
Susan McSween , Alexander McSween's widow, hired Huston Chapman as her attorney after her husband was killed. Chapman was murdered on 18th February, 1879. Dolan was accused of the murder but with the help of powerful friends, the case against him was dropped. Meanwhile, Dolan purchased the property previously owned by John Tunstall.
James Dolan died on 6th February, 1898.