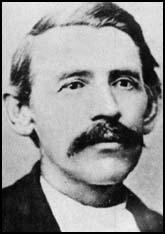 John Chisum was born in Madison County on 15th August, 1824. The family moved to Texas in 1837 and Chisum found work as a building contractor. He also served as county clerk in Lamar County.
Chisum got involved in the cattle business in 1854 and became one of the first to send his herds to New Mexico. He purchased land along the Pecos River and eventually became the owner of a large ranch and over 100,000 head of cattle.
Chisum was a business associate of Alexander McSween but it is unknown what role he played in the Lincoln County War.When Lewis Wallace took office as Governor of New Mexico on 1st October 1878, he proclaimed an amnesty for all those involved in the bitter feud. However, after Billy the Kid surrendered to the authorities, he was told he would be charged with the killing of William Brady.
Billy the Kid escaped from custody and went to see Chisum. Billy believed he was owed $500 but Chisum refused to pay. Billy the Kid responded by promising to steal enough cattle to make up this sum. This he did with a gang that included Dave Rudabaugh, Billy Wilson, Tom O'Folliard and Charles Bowdre. Billy's gang also stole from other cattlemen and became a serious problem in Lincoln County.
In 1880 Chisum was involved in getting Pat Garrett elected as sheriff of Lincoln County. Garratt immediately attempted to deal with the problems being caused by Billy the Kid. In December 1880, Garrett shot dead two of the Kid's gang, Tom O'Folliard and Charles Bowdre. Soon afterwards Billy the Kid, Dave Rudabaugh and Billy Wilson were captured by Garratt.
John Chisum died in Eureka Springs on 20th December, 1884. Chisum was unmarried and left his estate worth $500,000 to his brothers.