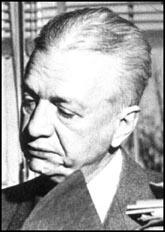 Francis Walter was born in Easton, Pennsylvania, on 26th May, 1894. After graduating from George Washington University he served during the First World War in the United States Air Service.
Returning to the United States in 1919, Walter was admitted to the bar and became a lawyer in Easton. He had numerous business interests in the town being a director of both the Broad Street Trust and the Easton National Bank. A member of the Democratic Party, Walter was elected to Congress in 1933.
In June, 1952, Walter and Pat McCarran instigated the passing of the McCarran-Walter Act that imposed more rigid restrictions on entry quotas to the United States. It also stiffened the existing law relating to the admission, exclusion and deportation of dangerous aliens as defined in the Internal Security Act.
Walter, who took an increasing interest in the activities of the Communist Party, was appointed chairman of the Un-American Activities Committee (HUAC) in 1955. A post he was to hold until his death on 31st May, 1963.