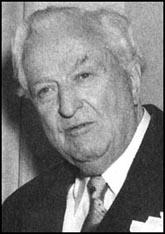 Pat McCarran was born in Reno, Nevada on 8th August, 1876. After graduating from the University of Nevada he worked in farming. In 1903 he became a member of the State legislature and after studying for a law degree he eventually became district attorney of Nye County (1907-09).
McCarran was also Nevada Chief Justice (1917-18), chairman of the Nevada State Board of Parole Commissioners (1913-18) and chairman of the Nevada State Board of Bar Examiners (1919-32). A member of the Democratic Party, McCarran, after two unsuccessful bids in 1916 and 1926, was elected the U. S. Senate in 1932.
After the Second World War McCarran established himself as the Senate's most powerful anti-Communist. was the chairman of the Senate Internal Security Subcommittee that investigated the administrations headed by Franklin D. Roosevelt and Harry S. Truman. In September 1950 he was the chief sponsor of the Internal Security Act. This legislation required registration with the Attorney General of the American Communist Party and affiliated organizations.
In June, 1952, McCarran joined Francis Walter in instigating the passing of the McCarran-Walter Act that imposed more rigid restrictions on entry quotas to the United States. It also stiffened the existing law relating to the admission, exclusion and deportation of dangerous aliens defined by the Internal Security Act. Pat McCarran remained in the Senate until his death in Hawthorne, Nevada, on 28th September, 1954.