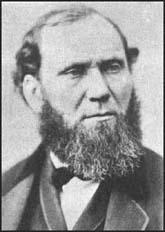 Allan Pinkerton was born in Glasgow in Scotland in 1819. A cooper by trade he was active in the Chartist movement as a young man. Disillusioned by the failure to win universal suffrage, Pinkerton emigrated to the United States.
Pinkerton settled in Chicago and became a deputy-sheriff. In 1852 he formed the Pinkerton Detective Agency. The first detective agency in the United States, it solved a series of train robberies. In 1861 the agency was given the task of guarding Abraham Lincoln. While in Baltimore, while on the way to the inauguration, Pinkerton foiled a plot to assassinate the president.
The Pinkerton Detective Agency was a great success. On the facade of his three-story Chicago headquarters was the company slogan, "We Never Sleep". Above this was a huge, black and white eye. The Pinkerton logo was the origin of the term private eye. Pinkerton became head of the American secret service during the Civil War and led the pursuit for Jessie James.
In 1873 Franklin B. Gowen, president of the Philadelphia & Reading Railroad, had a meeting with Allan Pinkerton. Gowen had considerable investments in the coal-mines of Schuylkill County and feared that the trade union activities of John Siney and the Workingmen's Benevolent Association would result in lower profits.
Allan Pinkerton decided to send James McParland to Schuylkill County. Assuming the alias of James McKenna, he found work as a labourer in Shenandoah. Soon afterwards he joined the Workingmen's Benevolent Association and the Shenandoah branch of the Ancient Order of Hibernians (AOH), an organisation for Irish immigrants run by the Roman Catholic clergy.
After a few months of investigations McParland reported back to Allan Pinkerton that some members of the Ancient Order of Hibernians were also active in the secret organization, the Molly Maguires. McParland estimated that the group had about 3,000 members. Each county was governed by a bodymaster who recruited members and gave out orders to commit crimes. These bodymasters were usually ex-miners who now worked as saloon keepers.
Over a two year period James McParland collected evidence about the criminal activities of the Molly Maguires. This included the murder of around fifty men in Schuylkill County. Many of these men were the managers of coal mines in the region.
John Kehoe, one of the leaders of the Molly Maguires became suspicious of McParland and began to investigate his past. McParland was tipped off that Kehoe was planning to murder him so he fled from the area.
In 1876 and 1877 James McParland was the star witness for the prosecution of John Kehoe and the Molly Maguires. Twenty members were found guilty of murder and were executed. This included Kehoe, a former union leader who was convicted of a murder that had taken place fourteen years previously.
After Allan Pinkerton died in 1884, the Pinkerton Detective Agency was run by his two sons, Robert Pinkerton and William Pinkerton. The brothers opened their fourth office in Denver. They appointed James McParland and Charlie Siringo to run the Pinkerton's western division.
Is there a man in this audience, looking at me now, and hearing me denounce this association, who longs to point his pistol at me ? I tell him that he has as good chance here as he will ever have again. I tell him that if there is another murder in this county, committed by this organization, every one of the five hundred members of the order in this county or out of it. who connives at it, will be guilty of murder in the first degree, and can be hanged by the neck until he is dead. I tell him that if there is another murder in this county by this society, there will be an inquisition for blood with which nothing that has been known in the annals of criminal jurist prudence can compare.

And to whom are we indebted for this security, of which I now boast? To whom do we owe all this? Under the divine providence of God, to whom be all the honor and all the glory, we owe this safety to James McParland; and if there ever was a man to whom the people of this county should erect a monument, it is James McParland the detective. It is simply a question between the Molly Maguires on the one side, and Pinkerton's Detective Agency on the other; and I know too well that Pinkerton's Detective Agency will win. There is not a place on the habitable globe where these men can find refuge and in which they will not be tracked down.
The origin and development of the Molly Maguires will always present a hard problem to the social philosopher, who will, perhaps, find some subtle relation between crime and coal. One understands the act of an ordinary murderer who kills from greed, or fear, or hatred; but the Molly Maguires killed men and women with whom they had had no dealings, against whom they had no personal grievances, and from whose death they had nothing to gain, except, perhaps, the price of a few rounds of whiskey. They committed murders by the score, stupidly, brutally, as a driven ox turns to left or right at the word of command, without knowing why, and without caring. The men who decreed these monstrous crimes did so for the most trivial reasons—a reduction in wages, a personal dislike, some imagined grievance of a friend. These were sufficient to call forth an order to burn a house where women and children were sleeping, to shoot down in cold blood an employer or fellow workman, to lie in wait for an officer of the law and club him to death. In the trial of one of them, Mr. Franklin B. Gowen described the reign of these ready murderers as a time "when men retired to their homes at eight or nine o'clock in the evening and no one ventured beyond the precincts of his own door; when every man engaged in any enterprise of magnitude, or connected with industrial pursuits' left his home in the morning with his hand upon his pistol, unknowing whether he would again return alive; when the very foundations of society were being overturned."
McParland would stop at nothing to take down (unions such as the Western Federation of Miners) because he believed his authority came from "Divine Providence." To carry out God's Will meant he was free to break laws and lie until every man he judged evil was hanging on the gallows. Since his days in Pennsylvania he was comfortable lying under oath. In the Haywood trial and the Adams trials, he lied frequently, even claiming he never joined the Ancient Order of Hibernians. Documents showed he had.