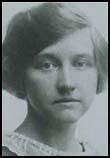 Ruth Pickering, the daughter of a successful businessman, was born in New York City in 1876. After studying at Vassar and Columbia University, Ruth became a journalist and worked for left-wing magazines such as The Masses, The Nation and New Republic.
Ruth was also very active in the women's suffrage movement and for many years shared a house with Max Eastman, Crystal Eastman and Eugen Boissevain (who later married Edna St Vincent Millay).
In 1919 Ruth married the wealthy lawyer, Amos Pinchot. The couple had two children, Mary Pinchot and Antoinette Pinchot. Regular visitors to the home included Mabel Dodge, Crystal Eastman, Max Eastman, Louis Brandeis and Harold Ickes.
After her marriage she became the dance and art critic of the The Nation. She continued to take an interest in politics and was involved in the campaign to get Nicola Sacco and Bartolomeo Vanzetti, released.