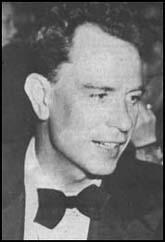 Peter Lindstrom was born in Stockholm, Sweden, on 1st March, 1907. He obtained medical degrees from Heidelberg and Leipzig universities and was working as a doctor when he met the eighteen year old, Ingrid Bergman. After Bergman made a series of films in Sweden: Branningar (1935), Munkbroggreven (1935) and Swedenheilms (1935) the couple married in 1936.
When Ingrid Bergman was invited to work in Hollywood, Bergman also moved to the United States where he found work lecturing on medicine at the University of Pittsburgh. After the war he moved to San Francisco where he developed a reputation as one of America's leading brain surgeons.
Ingrid Bergman was also a great success and with films such as Intermezzo (1939), Casablanca (1942), For Whom the Bell Tolls (1943), Gaslight (1944), Spellbound(1945), Notorious (1946) and Joan of Arc (1948) became one of the most famous stars in Hollywood.
In August, 1949, Lindstrom and Ingrid Bergman became the centre of a major scandal when he revealed that his wife had abandoned Pia, their ten year old daughter, to live with the Italian film director, Roberto Rossellini. Politicians became involved in the case and one senator, Edwin Johnson of Colorado, denounced her behaviour as "an assault upon the institution of marriage" and described her as a "powerful influence of evil".
Lindstrom married Dr. Agnes Ronavec in 1954, and the couple had four children: Karl, Peter, Michael and Brita. Peter Lindstrom died on 24th May, 2000.