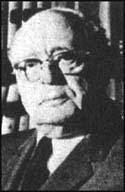 Otto Eisenschiml was born in Austria in 1880. After obtaining a university degree in Vienna he emigrated to the United States in 1901. He worked as a chemist and eventually became president of the Scientific Oil Compounding Company.
Eisenschiml took a keen interest in the assassination of President Abraham Lincoln. In his book, Why Was Lincoln Murdered? (1937), he suggested that Edwin Stanton, the secretary of war, had engineered the plot to kill the president. The evidence for this theory included the employment of John Parker to guard Lincoln, Stanton's failure to close all the roads out of Washington, the shooting of John Wilkes Booth, tampering with Booth's diary, and the hooding of the conspirators to stop them from talking.
The book sold well but was attacked by professional historians. J. G. Hamilton described it as "four hundred and thight-eight dreary pages of rambling and disconnected implication and innuendo."
Otto Eisenschiml died in 1963. However, the influence of his book remained and inspired d the book by David Balsiger and Charles E. Sellier, The Lincoln Conspiracy (1977) and the motion picture of the same name.