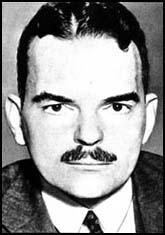 Thomas Dewey was born in Owosso, Michigan, on 24th March, 1902. After graduating from Columbia University in 1925 he practised law in New York.
In 1933 Dewey he was appointed as the attorney of the southern district of New York. Fiorello La Guardia, the new mayor of New York, instructed Dewey to investigate Dutch Schultz, a man he believed was behind a large amount of crime in the city. When Schultz heard the news, he began making plans to have Dewey assassinated. This worried other gang leaders as they knew that this would only increase La Guardia's determination to wipe out New York gangsterism. In October 1935, Louis Lepke Buchalter, one of New York's main gang leaders, paid to gangsters, Charlie Workman and Emmanuel Weiss to kill Schultz.
Over a four year period Dewey obtained 72 convictions out of 73 prosecutions of leading criminals. Elected district attorney of New York County in 1937, he became the Republican Party candidate for governor and won the post in 1942.
In office he earned a reputation for efficiency and honesty and in 1944 he was chosen as presidential candidate against Franklin D. Roosevelt. The election took place during the Second World War and Dewey had an impossible task against a popular wartime leader and was beaten by 25,602,505 to 12,006,278.
In 1948 Dewey was once again the Republican Party parliamentary candidate and was expected to defeat the Democratic Party candidate, Harry Truman. The situation was confused by the decision of Henry Wallace to stand for the Progressive Party. Dewey played safe and waged a non-committal campaign designed to avoid offending any segment of the electorate. This was probably a mistake and Truman won by 24,105,812 to 21,970,065.
Dewey did not stand in 1952 and instead helped Dwight Eisenhower to win the Republican Party nomination and then the presidential election. At the end of his third term as governor of New York in 1955, Dewey retired from politics and returned to his law practice. Thomas Dewey died on 16th March, 1971.