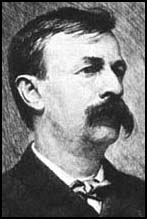 Edward Bellamy was born at Chicopee Falls, Massachusetts, on 26th March, 1850. His father, Rufus King Bellamy, was a Baptist minister, whereas his mother, Maria Louisa Putnam Bellamy, was a Calvinist. Bellamy studied law but determined to be a writer, he began working for the newspaper, the Springfield Union. He later moved to the New York Post.
Bellamy also had several novels published including The Duke of Stockbridge (1879), Dr. Heidenhoff's Process (1880) and Miss Ludington's Sister (1884). Bellamy became a socialist after reading The Cooperative Commonwealth: An Exposition of Modern Socialism by Laurence Gronlund.
Looking Backward appeared in 1888. Set in Boston, the book's hero, Julian West, falls into a hypnotic sleep and wakes in the year 2000, to find he is living in a socialist utopia where people co-operate rather than compete. Edward W. Younkins has argued: "This novel of social reform was published in 1888, a time when Americans were frightened by working class violence and disgusted by the conspicuous consumption of the privileged minority. Bitter strikes occurred as labor unions were just beginning to appear and large trusts dominated the nation's economy. The author thus employs projections of the year 2000 to put 1887 society under scrutiny. Bellamy presents Americans with portraits of a desirable future and of their present day. He defines his perfect society as the antithesis of his current society. Looking Backward embodies his suspicion of free markets and his admiration for centralized planning and deliberate design."
The novel was highly successful and sold over 1,000,000 copies. It was the third largest bestseller of its time, after Uncle Tom's Cabin and Ben-Hur. As his biographer, Franklin Rosemont, has pointed out: "The social transformation described in Looking Backward has in turn transformed, or rather liberated, the human personality. In Bellamy's vision of the year 2000, selfishness, greed, malice, insanity, hypocrisy, lying, apathy, the lust for power, the struggle for existence, and anxiety as to basic human needs are all things of the past."
Bellamy Clubs were established all over the United States for discussing and propagating the book's ideas. His ideas were also well received in Europe. Alfred Salter, a member of the Labour Party in Britain, read the book as a young man and along with his wife, Ada Salter, attempted to build Bellamy's utopia in Bermondsey.
Bellamy's book also inspired the Garden City movement. As Stanley Buder, the author of Visionaries and Planners: The Garden City Movement and the Modern Community (1991), has pointed out: "Bellamy also envisioned an environmental setting suitable for his new social order. His Boston of the year 2000 is a small city of parklike appearance. Neat, unostentatious homes filled with conveniences face broad treelined boulevards. Conveniently located public laundries and central dining halls relieve the drudgery of housework and end the isolation of domestic life. Dominating the city are handsome and commodious public buildings of classical architecture and gleeming whiteness which provide the center of community life. Needless to say, slums, saloons, and the excitement of crowds or the enticement of loitering before shop windows have been eliminated. An efficient, ordered life is what Bellamy's future promised. The author ingeniously combined state control in matters of production and distribution with private initiative in the arts to project what he regarded as a truly satisfying and liberal society."
According to Benjamin Flower: "Edward Bellamy possessed a charming and lovable personality. There was nothing of the militant reformer about him, although he was a man who held steadfastly to his convictions." Erich Fromm has argued that the is "one of the most remarkable books ever published in America." People who have claimed that they were deeply influenced by the book include, Heywood Broun, Elizabeth Cady Stanton, Daniel De Leon, Eugene Debs, Julius Wayland, Charlotte Perkins Gilman, Upton Sinclair, Scott Nearing and Elizabeth Gurley Flynn.
A strong supporter of the nationalization of public services, Bellamy's ideas encouraged the foundation of what became known as Nationalist Clubs. He also became editor of The Nationalist (1889-91) and the New Nation (1891-94).
Bellamy's Equality (1897) was an attempt to answer the critics of Looking Backward. The book emphasised the central role of women in radical social change. It also provided a bold affirmation of animal rights and wilderness conservation. Peter Kropotkin argued that he knew of "no other socialist work... that equals Bellamy's Equality."
Edward Bellamy died from tuberculosis at Chicopee on 22nd May, 1898.