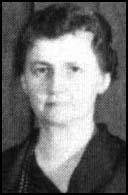 Adena Miller was born in 1888. After graduating from Oberlin College in Ohio she worked at the Chicago School of Civics and Philanthropy.
In 1916 Adena was appointed as civic director of the Women's City Club in Cincinnati. She later returned to Chicago and with her husband, Kenneth Rich, became residents at the Hull House Settlement.
Adena had been involved in the struggle for women's suffrage and in 1923 was elected vice-president of the League of Women Voters, where she worked closely with the president, Maud Park. In 1926 left the post to become director of the Immigrants' Protective League.
On the death of Jane Addams in 1935, Adena, who had lived at Hull House Settlement for sixteen years, was appointed by the Hull House Association board of trustees as the new head resident. However, Adena clashed with the increasingly dogmatic Louise Bowen, president of the board of trustees and was resigned in 1937 and was replaced by Charlotte Carr as head resident.
Adena Miller Rich died in 1967.