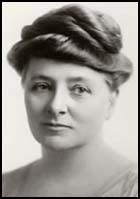 Maud Park was born in Boston, Massachusetts, on 25th January, 1871. She was a schoolteacher in New York for eight years before attending Radcliffe College, Cambridge (1895-98).
At college Park became a strong supporter of women's suffrage and joined the American Woman Suffrage Association (AWSA). Park also established the College Equal Suffrage League and after a tour of universities across the country she help form chapters in thirty different states. This organisation eventually became the National College Equal Suffrage Association.
After the passing of the 19th Amendment Park became president of the League of Women's Voters. In 1924 Park organized the Women's Joint Congressional Committee that helped lobby for an end to child labour and the promotion of maternity, health and welfare programs.
Maud Park died in Melrose, Massachusetts, on 8th May, 1955.