National Woman Suffrage Association
In 1840, two members of the Society of Friends, Elizabeth Cady Stanton and Lucretia Mott, travelled to London as delegates to the World Anti-Slavery Convention. Both women were furious when they, like the British women at the convention, were refused permission to speak at the meeting. Stanton later recalled: "We resolved to hold a convention as soon as we returned home, and form a society to advocate the rights of women."
However, it was not until 1848 that Elizabeth Cady Stanton and Lucretia Mott organised the Women's Rights Convention at Seneca Falls. Stanton's resolution that it was "the duty of the women of this country to secure to themselves the sacred right to the elective franchise" was passed, and this became the focus of the group's campaign over the next few years.
In 1866 Elizabeth Cady Stanton, Lucretia Mott, Susan B. Anthony and Lucy Stone helped establish the American Equal Rights Association. The following year, the organisation became active in Kansas where Negro suffrage and woman suffrage were to be decided by popular vote. However, both ideas were rejected at the polls.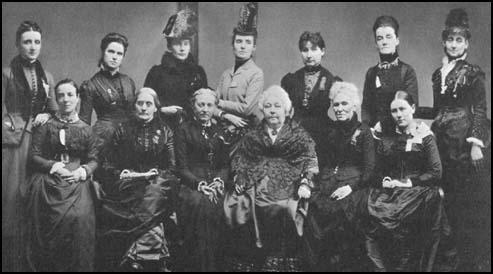 In 1869 Elizabeth Cady Stanton and Susan B. Anthony formed a new organisation, the National Woman Suffrage Association (NWSA). The organisation condemned the Fourteenth and Fifteenth amendments as blatant injustices to women. The NWSA also advocated easier divorce and an end to discrimination in employment and pay.
Another group, the American Woman Suffrage Association (AWSA) was formed in the same year in Boston. Leading members of the AWSA included Lucy Stone and Julia Ward Howe. Less militant that the National Woman Suffrage Association, the AWSA was only concerned with obtaining the vote and did not campaign on other issues.
In the 1880s it became clear that it was not a good idea to have two rival groups campaigning for votes for women. After several years of negotiations, the AWSA and the NWSA merged in 1890 to form the National American Woman Suffrage Association (NAWSA). The leaders of this new organisation include Elizabeth Cady Stanton, Susan B. Anthony, Carrie Chapman Catt, Frances Willard, Matilda Joslyn Gage and Anna Howard Shaw.