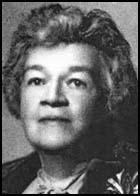 Edith Nourse was born in Saco, Maine, on March 19, 1881. In 1907 she married John Jacob Rogers. The couple were members of the Republican Party. In 1912 Rogers won a seat in Congress in 1912 and they moved to Washington, D.C.
She worked as a volunteer Red Cross worker during the First World War. After the war she became the presidential representative in charge of assisting disabled veterans under Warren Harding, Calvin Coolidge and Herbert Hoover.
After the death of John Jacob Rogers in March 1925, Rogers ran for his congressional seat, and in June 1925 she won the special election with 72 percent of the vote.
In Congress she fought for an end to child labour, the 48 hour week and equal pay for women. During the Second World War Rogers introduced legislation to establish the Women's Army Corps.
In 1947, she became the leading Republican Party member of the Committee on Veterans' Affairs and served as its chair for two years. Rogers was a leading advocate of the G.I. Bill of Rights, which gave returning veterans the opportunity to go to college and to receive low-interest loans to buy houses.
Edith Nourse Rogers died on 10th September 1960.