Henry Brown was born into slavery in Louisa County, Virginia, in 1815. When he was 15 years old he was sold to a plantation owner in Richmond. He later recalled: "My father and mother were left on the plantation; but I was taken to the city of Richmond, to work in a tobacco manufactory, owned by my old master's son William, who had received a special charge from his father to take good care of me, and which charge my new master endeavoured to perform."
The Nat Turner Rebellion took place in 1831 in neighbouring Southampton County. Brown later explained the impact that this had on the slaves on his plantation: "About eighteen months after I came to the city of Richmond, an extraordinary occurrence took place which caused great excitement all over the town. I did not then know precisely what was the cause of this excitement, for I could got no satisfactory information from my master, only he said that some of the slaves had plotted to kill their owners. I have since learned that it was the famous Nat Turner's insurrection. Many slaves were whipped, hung, and cut down with the swords in the streets; and some that were found away from their quarters after dark, were shot; the whole city was in the utmost excitement, and the whites seemed terrified beyond measure. Great numbers of slaves were loaded with irons; some were half hung as it was termed - that is they were suspended from some tree with a rope about their necks, so adjusted as not quite to strangle them - and then they were pelted by men and boys with rotten eggs."
Brown met another slave, Nancy, who he wanted to marry. "I now began to think of entering the matrimonial state; and with that view I had formed an acquaintance with a young woman named Nancy, who was a slave belonging to a Mr. Leigh a clerk in the Bank, and, like many more slave-holders, professing to be a very pious man. We had made it up to get married, but it was necessary in the first place, to obtain our masters' permission, as we could do nothing without their consent. I therefore went to Mr. Leigh, and made known to him my wishes, when he told me he never meant to sell Nancy, and if my master would agree never to sell me, I might marry her. He promised faithfully that he would not sell her, and pretended to entertain an extreme horror of separating families. He gave me a note to my master, and after they had discussed the matter over, I was allowed to marry the object of my choice." Over the next few years Nancy gave birth to three children.
Slavery in the United States (£1.29)
In 1848 Nancy and her three children were sold to a slave trader who sent them to North Carolina. Brown later recalled: "I had not been many hours at my work, when I was informed that my wife and children were taken from their home, sent to the auction mart and sold, and then lay in prison ready to start away the next day for North Carolina with the man who had purchased them. I cannot express, in language, what were my feelings on this occasion. I received a message, that if I wished to see my wife and children, and bid them the last farewell, I could do so, by taking my stand on the street where they were all to pass on their way for North Carolina. I quickly availed myself of this information, and placed myself by the side of a street, and soon had the melancholy satisfaction of witnessing the approach of a gang of slaves, amounting to three hundred and fifty in number, marching under the direction of a Methodist minister, by whom they were purchased, and amongst which slaves were my wife and children."
The following year Brown, with the help of Samuel Smith, a store-keeper in Richmond, decided to try and escape. "I then told him my circumstances in regard to my master, having to pay him 25 dollars per month, and yet that he refused to assist me in saving my wife from being sold and taken away to the South, where I should never see her again. I told him this took place about five months ago, and I had been meditating my escape from slavery since, and asked him, as no person was near us, if he could give me any information about how I should proceed. I told him I had a little money and if he would assist me I would pay him for so doing."
The two men devised a plan where the slave would be shipped to a free state by Adams Express Company. Brown paid $86 to Smith, who contacted the Philadelphia Vigilance Committee, who agreed to receive the box. Smith sent the box to Philadelphia on 23rd March, 1849. According to one account "Brown's box traveled by wagon, railroad, steamboat, wagon again, railroad, ferry, railroad, and finally delivery wagon. Several times during the 27-hour journey, carriers placed the box upside-down or handled it roughly, but Brown was able to remain still enough to avoid detection." The box containing Brown was received by William Still and James Miller McKim.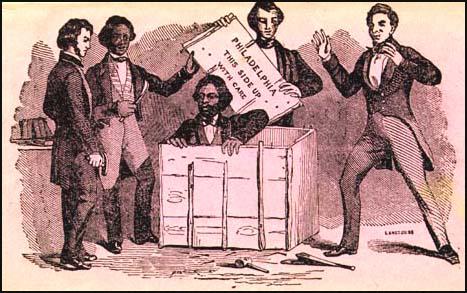 Henry "Box" Brown became active in the Anti-Slavery Society and became one of their most important speakers. In 1849 he published Narrative of the Life of Henry Box Brown. After the passing of Fugitive Slave Law Brown moved to England. A second edition of his autobiography was published in Manchester in 1851.
Over the next ten years he made speeches all over Britain. Samuel Fielden was one of those who saw him when he visited Todmorden: "There appeared in Todmorden at different times, several colored lecturers who spoke on the slavery question in America. I went frequently to hear them describe the inhumanity of that horrible system, sometimes with my father, and at other times with my sister. One of these gentlemen called himself Henry Box Brown; the gentleman brought with him a panorama, by means of which he described places and incidents in his slave life, and also the means of his escape.... He was a very good speaker and his entertainment was very interesting."
Brown also worked as a conjuror. He married a British woman and in 1875 he returned to the United States. It is not known when he died.