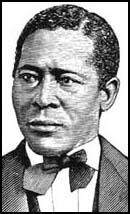 William Still, one of seventeen children, was born in Burlington County in 1821. His father escaped to New Jersey and was later followed by his wife and children.
Still left New Jersey for Philadelphia in 1844. Three years later he was appointed secretary of the Pennsylvania Abolition Society. Still was the first black man to join the society and was able to provide first-hand experience of what it was like to be a slave.
Still, who established a profitable coal business in Philadelphia, used his house as one of the stations on the Underground Railroad. Still interviewed the fugitives and kept careful records of each so that family and friends might locate them. According to his records, Still helped 649 slaves receive their freedom.
After John Brown and his insurrection at Harper's Ferry failed in 1859 Still sheltered some of his men and helped them escape capture.
At this time Still began his campaign to end racial discrimination on Philadelphia streetcars. He wrote an account of this campaign in Struggle for the Civil Rights of the Coloured People of Philadelphia in the City Railway Cars (1867). He followed this with The Underground Railroad (1872) and Voting and Laboring (1874).
Still established an orphanage for the children of African-American soldiers and sailors. Other charitable work included the founding of a Mission Sabbath School and working with the Young Men's Christian Association. William Still died in Philadelphia on 14th July, 1902.
Slavery in the United States (£1.29)