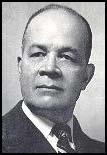 Joel Rogers was born in Negril, Jamaica in about 1880. He moved to the United States in 1906 and found work as a train porter in Chicago.
Rogers moved to New York City and along with Chandler Owen, Philip Randolph, E. Franklin Frazier, Joel Rogers, Hubert Harrison, George Schuyler, Roy Wilkins, Claude McKay, Scott Nearing, Langston Hughes, Paul Robeson and Eugene O'Neill, began contributing to The Messenger.
Rogers also contributed to Crisis and The Amsterdam News. Rogers later worked for the Pittsburgh Courier. This included reporting the Ethiopian-Italian war in 1935. He wrote several books on African American civil rights including Superman to Man (1941), Sex and Race (1944) and Great Men of Color (1975).
Joel Rogers died in New York City on 26th March, 1966.
The fight both for and against slavery in the United States was waged first along scriptural lines. There was also the theory of the descent from Ham which attained great vogue and still does in certain quarters. With the superseding of religion by science the battle of inequality shifted from a scriptural wording to a scientific one. Now it was no longer what "God had said" but what color, hair, and skull showed. In other words, the pro-slavery faction and the antislavery one had entered the stage in new costumes. Underneath were the same bodies.
He spoke wherever an audience could be had on subjects embracing general literature, sociology, Negro history, and the leading events of the day. He wrote for such radical and antireligious periodicals as The Call, The Truth Seeker, and The Modern Quarterly, being perhaps the first Negro of ability to enter this field. His views on religion and birth control were often opposed by Catholics and Protestants alike, and at his open-air meetings he and his friends were obliged to defend themselves physically from mobs at times. But he fought back courageously, never hesitating to speak no matter how great the hostility of his opponents.

One of the men who was very much influenced by Harrison was Marcus Garvey, later the most prominent of Negro agitators. Garvey's emphasis on racialism was due in no small measure to Harrison's lectures on Negro history and his utterances on racial pride, which animated and fortified Garvey's views. Harrison's slogan became "Race First," in opposition to his earlier socialistic one of "Class First."

Harrison's views profoundly influenced the Messenger Group, headed by A. Philip Randolph and Chandler Owen, two leaders who did more than anyone else to focus the attention of the government and of thinking whites on the injustices suffered by Negroes during the war. While the old leaders capitulated and urged the members of the race to submit while the war was on, these two brilliant young men spoke out fearlessly.
I have learned much from Joel Rogers. Rogers is an untrained American Negro writer who has done his work under great difficulty without funds and at much personal sacrifice. But no man living has revealed so many important facts about the Negro race as has Rogers. His mistakes are many and his background narrow, but he is a true historical student.