In about 1600 BC a tribe called the Latini formed a settlement on a group of hills by the River Tiber. They called this settlement Rome. It was strategically placed as it was the last crossing on the river before the sea through which north-south and east-west trade routes passed. Income from trade (charges on passing traders) became very important. In about 600 BC the area was invaded by a powerful group called the Etruscans that came from another part of Italy. They ruled Rome for about a hundred years before being forced out of the area. (1)
The Romans decided to establish a democratic republic. They borrowed the idea of democracy from Athens where this form of government had lasted for 200 years in an earlier period. Participation was not open to all residents in Athens. To vote one had to be an adult, male citizen who owned land and was not a slave, and the number of these "varied between 30,000 and 50,000 out of a total population of around 250,000 to 300,000." (2)
The word "democracy" means the "rule of the people". In reality it never referred to the whole people in Rome, since it excluded slaves, women and non-citizens. Nor did each citizen have one vote. Power in Rome was in the hands of a small group of rich families. The male heads of these families were called patriarchs. Three hundred of these patriarchs met in a place known as the Senate where they discussed government matters.
Every year the senators nominated two men to become joint leaders of Rome. These men were called consuls. The senators could advise but it was the consuls who made the decisions (they had to be in agreement before they did this). The consuls controlled government spending, foreign relations and the appointment of military commanders and provincial governors. In an effort to prevent foolish decisions being made, the two consuls had to be in agreement before decisions were taken.
Although the senators nominated them, the consuls were elected by the Public Assembly. In theory all Roman male citizens could attend the Public Assembly held in the Forum but it was organised in such a way that it was usually the patricians who controlled the decisions that were made. Sallust argued: "The Romans... introduced a new system in which authority was divided between two annually elected rulers; the limitation of their power, it was thought, would prevent them being tempted to abuse it." (3)
The Roman citizens who were not members of the ruling families were called plebeians. For hundreds of years the plebeians were not allowed to marry members of the patrician families so the two groups were kept very separate. The plebeians were in the vast majority but they were not free to elect who they wanted. This was because of a system called clientela. Every patriarch would have a large group of plebeians who were his clients. In exchange for financial and legal support, the plebeians supported the wishes of their patriarch. This included the way he voted in the Public Assembly.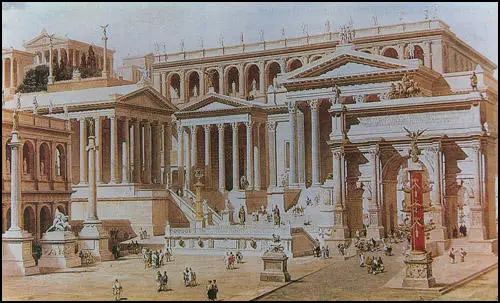 In 494 BC the plebeians, inspired by what they had heard about democracy from the Greeks, had a meeting where they swore an oath of mutual support. They then informed the Senate that if it did not agree to their demands, they would form their own community outside Rome. As the plebeians provided labour for the fields and made up most of the army during warfare, the Senate was forced to accept their demands. (4)
It was agreed that the plebeians could each year elect two men to represent their interests. These men, who became known as tribunes, had the power to protect plebeians against the actions of the patriarchs. Tribunes were not paid and so they were nearly always fairly wealthy people. Following another campaign the Senate agreed that plebeians could also become consuls and praetors (officials who helped to govern Rome).