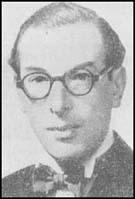 Leslie Solley was born on 15th December 1905. He was educated at a London County Council Elementary School and the London University. Solley worked as a research scientist before becoming a barrister.
A member of the Labour Party he was elected to represent Thurrock in the 1945 General Election. In the House of Commons Solley associated with a group of left-wing members that included John Platts-Mills, Konni Zilliacus, Lester Hutchinson, Ian Mikardo, Barbara Castle, Sydney Silverman, Geoffrey Bing, Emrys Hughes, D. N. Pritt, William Warbey, William Gallacher and Phil Piratin.
In April 1948 John Platts-Mills organized a petition in support of Pietro Nenni and the Italian Socialist Party in its general election campaign. He gained support from 27 other MPs including Solley. This went against government policy and Platts-Mills was expelled from the party and Solley was warned about his future conduct.
Ernest Bevin signed the North Atlantic Treaty in Washington on 4th April 1949. Solley completely opposed the treaty arguing that it went against the charter of the United Nations, would accelerate the arms race and make it more difficult to achieve a united Europe. On 12th May, 1949, Solley was only one of only six Labour MPs to vote against the signing of the NATO treaty. Four days later Solley, along with Konni Zilliacus, were expelled from the Labour Party.
Solley unsuccessfully contested Thurrock in the 1950 General Election as an Independent Labour candidate. Solley returned to his work as a lawyer. He was also served as vice-president of the Songwriters Guild of Great Britain.
Leslie Solley died on 8th January, 1968.