Robert Rich, Earl of Warwick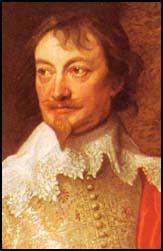 Robert Rich, the son of the Earl of Warwick, was born in 1587. Educated at Cambridge University, he went to the Americas where he held administrative posts in New England and Bermuda. In 1628 he got the patent of the Massachusetts Bay colony and in 1635 founded the settlement of Saybrook in Connecticut.
The Earl of Warwick became one of the leading Puritans in the House of Lords and on the outbreak of the Civil War he was placed in command of Parliament's navy.
The Earl of Warwick opposed the execution of Charles I and retired from politics in 1649.
Robert Rich, 2nd Earl of Warwick, died in 1658.