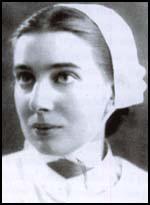 Patience Darton, the daughter of a book publisher, was born in Orpington in 1911. She was educated at a private school in St Albans.
As a young woman she attended the services of Canon Skelton, a Christian Socialist. This resulted in her attending lectures on the Church and Social Order. "I was very religious, but I had terrible doubts... The worst was about pain, pain for people who hadn't deserved it or earned it... I thought it did not fit in with a loving God."
After leaving school she worked in a tea shop before training as a nurse and midwife in London. Her work in the East End radicalized Darton: "90% of their houses were appalling... tenements, crawling with bugs, alive with bugs, dripping with bugs, and everyone lousy. There was no lighting at night in the main part, in the stairs. There'd be gas in the rooms, worked off a penny in the slot... Of course there wasn't any heating in the rooms and there wasn't any water." As a result of her experiences she became a supporter of the Labour Party.
On the outbreak of the Spanish Civil War she offered her services to the Spanish Medical Aid Committee. As a member of the congregation of St George Church in Holborn she was given a good "send off" when she left for Spain. Later she explained why she decided to go to Spain: "It was purely political. I was so terribly browned off with the state of England and nothing being done about it... and there were the Spaniards doing something about it."
In February 1937 she went to Spain and nursed Tom Wintringham at the Pasionaria Military Hospital in Valencia. She diagnosed that he was suffering from typhoid and a form of septicaemia: "so I poked around with a pair of scissors and found he had a lot of pus in his wounds which had been sewn up too tightly. And that was it; he got better very quickly."
Darton also worked in medical units in Aragón, Brunete, Teruel and Ebro. Her colleagues included Nan Green, Thora Silverthorne, Agnes Hodgson and Annie Murray. She later recalled: "The Ebro was where we attacked again; a really big formal attack, not just a holding thing; its doing the attacking. We were right up on the side of the Ebro, in a cave on the south side of the river. The fighting had crossed the Ebro so we didn't get the people back until it was dark, because the bombing and the shelling were so extreme, that you couldn't get them back until it was dark. Then they all streamed in, terribly bad, much worse than we usually had - ever so much worse. The cave was very uncomfortable; it was very dark, very low and all uneven. The metal beds were all higgledy-piggledy over the floor and you could barely see - we hadn't got lights. We had lights for the theatre, run off of one of our ambulances, but we hadn't got lights in the cave, and we had to do our work by little tiny oil lamps, cans - ordinary tin cans with wick in them with oil. It isn't much light; a miserable little fickle light, and you couldn't see across the cave, and you kept banging yourself on those iron beds."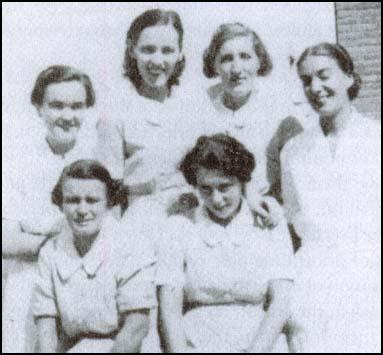 According to Leah Manning Darton was involved in nursing Harry Dobson. "Patience was just coming on duty for the night and as we went into the cave, the stretcher bearers brought in an English comrade from the British Battalion who was gravely wounded in the abdomen. He had had his spleen removed and Reggie Saxton had given him a blood transfusion. As I stood by he opened his eyes and spoke my name. I recognised him as a comrade whom I had met at a by-election in South Wales, a miner from Tonypandy named Harry Dobson."
Patience Darton remained in the country until the International Brigades were withdrawn at the end of 1938. On her return to London she joined the Communist Party of Great Britain. She also shared a house with Nan Green: "We were busy all the time... lots of demos in those days... We demanded arms for Spain, and we could often do things... women you see, particularly Nan Green and me because we spoke so nicely that the police didn't stop you in the same way that they did the others."
During the Second World War she instructed women in the work of war nursing for the London County Council. In the 1950s she lived in China where she worked at the Foreign Languages Press.
Patience Darton was active in the International Brigade Association until her death in Madrid in 1996.