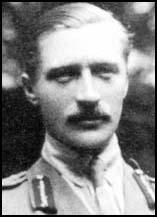 Edward Louis Spears was born in Paris on 7th August, 1886, the only son and elder child of Charles McCarthy Spears (1858–1912), commission agent, and his wife, Marguerite Melicent Hack (1864–1927). He was educated privately, and at a boarding-school in Neuwied, Germany (1901–2).
Spears joined the 8th Hussars in 1906 and served in India. On the eve of the First World War he was in Paris, working at the French war office and in August 1914 he was made liaison officer between General Charles Lanrezac of the French Fifth Army and Sir John French, the British commander-in-chief.
In 1915 he won the Military Cross and was wounded four times before becoming head of the British military mission to the French war office. He became friends with Winston Churchill. According to Spears' biographer, Max Egremont: "Churchill admired Spiers's courage and ability and supported him against French and British jealousy and suspicion: Sir Henry Wilson saw Spears as an intriguer and Clemenceau thought he knew too many French secrets."
While at the Somme Spears met and fell in love with Mary Borden, who was running at her own expense a mobile hospital on the Western Front. Borden was married with three children. After she obtained a divorce they were married on 31st March 1918 at the British embassy in Paris. According to her biographer, Nicola Beauman: "There was much gossip that Spears was only marrying her for her money (which was in part true) and that he had broken up a happy home (also partly true)."
Spears retired from the British Army in 1920 and decided to go into business. He told Winston Churchill that he had received an attractive offer from "a big financial group interested in opening up Poland, the Ukraine and Rumania and in securing trade privileges in those countries for Great Britain". Spears recruited Sidney Reilly in 1921 because of his wide experience of Eastern Europe. Spears later recalled that "Reilly accompanied me in the capacity of an able businessman which I certainly was not myself at the time." Spears warned Reilly about "the danger of dealing with shady people & mixing politics with business". A number of business ventures instigated by Reilly were not successful and on 2nd August, 1922, Spears sacked him.
Spears business venture was not a success and with the encouragement of Winston Churchill in November, 1922, stood as the National Liberal candidate for Loughborough. Elected to the House of Commons he served until defeated in October, 1924.
In 1928 Mary Borden published the novel Flamingo. According to one critic, the novel "is a love story which should live as long as any woman believes in love". She followed this with The Forbidden Zone, an account of her experiences during the First World War. A novel about a nurse on the Western Front, Sarah Gay, appeared in 1931.
Spears followed Winston Churchill into the Conservative Party and was elected for Carlisle in the 1931 General Election. The couple moved to St Michael's Grange, Warfield, Berkshire. They also had a home at 12 Strathearn Place, Bayswater. The marriage was not a success. According to Nicola Beauman "her life became increasingly blighted by her domineering husband's blatant devotion to his mistress" and he "was abusive and cruel". Max Egremont argues that his mistress was Nancy Maurice (1901–1975), daughter of Major-General Sir Frederick Barton Maurice, who worked as Spears's secretary.
Spears wrote two books during this period: Liaison, 1914 (1930), on his experiences during the First World War and Prelude to Victory (1939), on the Nivelle Offensive of 1917. Mary Borden continued working as a novelist and wrote the controversial The Techniques of Marriage (1933), Mary of Nazareth (1933), The King of the Jews (1935), and a collection of short-stories, Passport for a Girl (1939), an account of English attitudes to the rise of Adolf Hitler in Nazi Germany.
In the House of Commons Spears joined Winston Churchill in his criticisms of Neville Chamberlain and his policy of appeasement. When Churchill became prime minister, he appointed Spears as his personal representative to the French government of Paul Reynaud. Spears fled to London with Charles De Gaulle on 17th June 1940.
Spears continued to work for Churchill. However, as Max Egremont pointed out: "Tall, thick-set, and dark haired, with a prominent nose, narrow eyes, and a clipped moustache, Spears had charm, wit, an imposing manner, courage, and piercing intelligence but his aggression hid an acute sense of himself as an outsider in British life. He was not suited to the diplomacy that followed the victory over the Vichy forces in Syria by the allies in June 1941 when, as head of the British Mission to the Free French, he had to implement the agreement between Free France and Britain that the Levant states of Syria and Lebanon, hitherto French mandated territories, should get their independence: a promise to the local populations who detested the colonial regime."
Spears was appointed the first British minister to Syria and Lebanon in January 1942. However, he was not a successful diplomat and after Anthony Eden, Duff Cooper and Harold Macmillan complained that Spears was offending the French unnecessarily, Churchill forced him to resign in December 1944.
Spears lost his seat in parliament in the 1945 General Election. Later that year he became chairman of Ashanti Goldfields and was appointed chairman of the Institute of Directors (1948 to 1966). He published his account of the fall of France, Assignment to Catastrophe, in 1954. This was followed by Two Men who Saved France (1966), a study of Henri-Philippe Pétain and Charles De Gaulle. He also published an autobiography, The Picnic Basket (1967).
Mary Borden died of heart failure on 2nd December 1968 at her home, St Michael's Grange, Warfield, Berkshire. The following year he married his long-term mistress, Nancy Maurice. According to Max Egremont: "Mary Borden had a life of her own as a writer whereas Spears was Nancy Maurice's whole existence and she worked ruthlessly to further his career, encouraging him in the pursuit of vendettas and strong dislikes. The second Lady Spears accompanied her husband regularly to the Asante goldmines in Ghana where he became increasingly out of touch with post-colonial Africa."
Edward Louis Spears died on 27th January 1974 of a haemorrhage and thrombosis at the Heatherwood Hospital at Ascot.
Boris Savinkov introduced Spears to the spy Sidney Reilly. Born Rosenblum of Jewish ancestry in Odessa, Reilly had worked as a businessman in St Petersburg. After the revolution, he showed courage on behalf of his British paymasters even if some of his ideas were impractical; one of these was to debag Lenin and Trotsky and parade the humiliated pair through the streets. Reilly worshipped Napoleon and was both intensely secretive and wildly boastful. He had been with Denikin's forces in south Russia and, when Spears first met him, supported Savinkov, Spears became cautious about believing a man who claimed to have been attached to the German staff during the war...

Sidney Reilly was a difficult associate. Spears now had an office in London which the spy used when he was there; in October the telephone was cut off because Reilly had not paid the bill, there were exorbitant claims for expenses and the spy was rude when these were challenged. "I won't stand cheek," Spears said. He warned Reilly of "the danger of dealing with shady people & mixing politics with business". Reilly had damaged his position in Prague by identifying himself with Savinkov, "who is now out of favour there". The disadvantage of the spy, he decided, was the company he kept: "he is not careful enough."