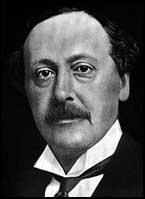 Herbert Gladstone, the fourth son of William Gladstone, was born in 1854. After being educated at Eton and University College, Oxford, Gladstone became a history lecturer at Oxford University.
In the 1880 General Election Gladstone was elected as Liberal MP for Leeds. In the House of Commons Gladstone, a member of the Temperance Society, advocated reform of the alcohol trade and the abolition of the powers of the House of Lords.
After entering the House of Commons Gladstone worked as his father's unpaid Parliamentary Secretary. The following year William Gladstone appointed his son as Lord of the Treasury (1881-85). This was followed by periods as Deputy Commissioner of Works (1885-86), Financial Secretary at the War Office (1886), Under Secretary to the Home Office (1892-94), Commissioner of Works (1894-95) and Chief Whip (1899-1905).
In the government formed by Herbert Asquith following the 1910 General Election, Gladstone became Home Secretary. Created Viscount Gladstone in December, 1910, he became an important figure in the struggle with the House of Lords over its reluctance to pass the legislation of the Liberal government.
During he First World War Gladstone served as Governor-General of South Africa and head of the War Refugees Association.
Herbert Gladstone died on 6th March, 1930.