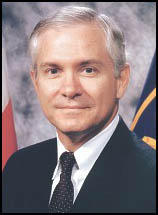 Robert Michael Gates was born on 25th September, 1943 in Wichita, Kansas. While studying at the College of William and Mary he was active in the Young Republicans. He was also the business manager for the William and Mary Review, a literary and art magazine. He graduated in 1965 and the following year he obtained a degree in history from Indiana University. Later he obtained a Ph.D. in Russian and Soviet history from Georgetown University.
Gates joined the Central Intelligence Agency while at university. However, before taking up his post he spent two years in the United States Air Force. This included a spell in Vietnam. Afterwards he worked for the CIA as an intelligence analyst.
In 1974 Gates joined the National Security Council staff and worked for President Jimmy Carter. He left in 1979 and rejoined the CIA as executive assistant to Stansfield Turner, the CIA director.
During the 1980 presidential election campaign Ronald Reagan was informed that Jimmy Carter was attempting to negotiate a deal with Iran to get the American hostages released. Robert Parry has argued that Gates was the source of this leak to Reagan. "We now have a lot of documents. We have some records from that period. We have statements from former Iranian officials, including the former Iranian president, Banisadr, the former defense minister, the former foreign minister, all of whom saying that they had these dealings with the Republicans behind the scenes. So, as we went back through that, the evidence built up that there had been these earlier contacts and that Bob Gates was one of the people involved in them."
Jimmy Carter's secret negotiations posed a serious problem for the Reagan campaign. If Carter got the hostages out before the election, the public perception of the man might change and he might be elected for a second-term. As Michael Deaver later told the New York Times: "One of the things we had concluded early on was that a Reagan victory would be nearly impossible if the hostages were released before the election... There is no doubt in my mind that the euphoria of a hostage release would have rolled over the land like a tidal wave. Carter would have been a hero, and many of the complaints against him forgotten. He would have won."
According to Barbara Honegger, a researcher and policy analyst with the 1980 Reagan/Bush campaign, William J. Casey and other representatives of the Reagan presidential campaign made a deal at two sets of meetings in July and August at the Ritz Hotel in Madrid with Iranians to delay the release of Americans held hostage in Iran until after the November 1980 presidential elections. Reagan's aides promised that they would get a better deal if they waited until Carter was defeated.
On 22nd September, 1980, Iraq invaded Iran. The Iranian government was now in desperate need of spare parts and equipment for its armed forces. Jimmy Carter proposed that the US would be willing to hand over supplies in return for the hostages.
Once again, the Central Intelligence Agency leaked this information to Ronald Reagan and George H. W. Bush. This attempted deal was also passed to the media. On 11th October, the Washington Post reported rumors of a "secret deal that would see the hostages released in exchange for the American made military spare parts Iran needs to continue its fight against Iraq".
A couple of days before the election Barry Goldwater was reported as saying that he had information that "two air force C-5 transports were being loaded with spare parts for Iran". This was not true. However, this publicity had made it impossible for Carter to do a deal. Ronald Reagan on the other hand, had promised the Iranian government that he would arrange for them to get all the arms they needed in exchange for the hostages.
In the election Reagan easily defeated Jimmy Carter by 44 million votes to 35 million. The Republican Party also won control of the Senate for the first time in 26 years. According to Mansur Rafizadeh, the former U.S. station chief of SAVAK, the Iranian secret police, CIA agents had persuaded Khomeini not to release the American hostages until Reagan was sworn in. In fact, they were released twenty minutes after his inaugural address.
Reagan appointed William J. Casey as director of the Central Intelligence Agency. In this position he was able to arrange the delivery of arms to Iran. These were delivered via Israel. By the end of 1982 all Regan's promises to Iran had been made. With the deal completed, Iran was free to resort to acts of terrorism against the United States. In 1983, Iranian-backed terrorists blew up 241 marines in the CIA Middle-East headquarters.
In 1982 Gates was appointed Deputy Director for Intelligence. Four years later he was promoted to the post of Deputy Director of Central Intelligence, under William J. Casey. In May 1986 Gene Wheaton told Casey about what he knew about the Iran-Contra operation. Casey refused to take any action, claiming that the agency or the government were not involved in what later became known as Irangate.
(If you are enjoying this article, please feel free to share. You can follow John Simkin on Twitter and Google+ or subscribe to our monthly newsletter.)
Gene Wheaton now took his story to Daniel Sheehan, a left-wing lawyer. Wheaton also contacted Newt Royce and Mike Acoca, two journalists based in Washington. The first article on this scandal appeared in the San Francisco Examiner on 27th July, 1986. As a result of this story, Congressman Dante Facell wrote a letter to the Secretary of Defense, Casper Weinberger, asking him if it "true that foreign money, kickback money on programs, was being used to fund foreign covert operations." Two months later, Weinberger denied that the government knew about this illegal operation.
Charles E. Allen, a national intelligence officer for counter-terrorism, went to see Robert Gates on 1st October, 1986, and told him that he believed that the proceeds from the Iran arms sales may have been diverted to support the contras. Gates then passed this information onto Casey.
On 5th October a Sandinista patrol in Nicaragua shot down a C-123K cargo plane that was supplying the Contras. Eugene Hasenfus, an Air America veteran, survived the crash and told his captors that he thought the CIA was behind the operation. Two days later, Roy M. Furmark, who was working for Adnan Khashoggi, told Casey that his boss was owed $10 million for his role played in the arms-hostages deal. Furmark also claimed that the man behind the deal was Oliver North.
On 9th October, Robert Gates and William J. Casey had lunch with Oliver North. It seems that the CIA wanted to see the paperwork for the delivery of arms to Iran. Gates told North: "If you think it's that sensitive we can put it in the director's personal safe. But we need our copy." That afternoon, Casey appeared before two Congressional oversight committees, where he maintained that the CIA had nothing to do with the supplying of contras.
On 15th October, leaflets were given out in Tehran stating that high-ranking advisers to President Ronald Reagan had been visiting Iran the previous month to negotiate a deal to release hostages for arms. Two days later, Charles E. Allen provided Casey with a seven-page assessment of the "arms-hostage machinations". Allen wrote: "The government of the United States, along with the government of Israel, acquired substantial profit from these transactions, some of which profit was redistributed to other projects of the U.S. and of Israel."
Meanwhile, Eugene Hasenfus was providing information to his captors on two Cuban-Americans running the operation in El Salvador. This information was made public and it was not long before journalists managed to identify Raphael Quintero and Felix Rodriguez as the two men described by Hasenfus.
At the beginning of November, newspapers in the United States began running stories about the Iran-Contra conspiracy. On 6th November, President Ronald Reagan told reporters that the story that Robert McFarlane had been negotiating an arms for hostages deal "has no foundation". He also argued that he would not carry out talks with Iran as its government was part of "a new international version of Murder Incorporated".
On 21st November, William J. Casey appeared again before the House Select Committee on Intelligence (HSCI). By this time it was public knowledge about the arms-hostages deal. Casey was asked who was responsible for what one committee member described as this "misguided policy". Casey replied: "I think it was the President". Casey also claimed that this was a National Security Council operation. As Bernard McMahon pointed out, "we came out believing the CIA had acted only in a support role at the direction of the White House".
The following day, two investigators working for Attorney General Edwin Meese, discovered important documents while searching Oliver North's office. These documents revealed that the profits on the Iranian arms deals amounted to $16.1 million. However, the Contras had only received $4 million and at least another $12.1 million had gone missing. It was later established that Richard Secord and his partners had taken at least $6.6 million in profits and commissions.
William J. Casey was now summoned to appear before the House Defense Appropriations Subcommittee. On Monday 8th December, he was questioned about the possibility of Iranian payments being diverted to Afghanistan. Two days later he appeared before the House Foreign Relations Committee (HFRC). He was questioned about when he first knew that money was being diverted from the profits of the hostage-arms deals. Casey claimed that he first heard about it from Edwin Meese. Members of the HFRC pointed out that Roy M. Furmark had already testified that he told casey about the deal as early as the 7th October. Casey was questioned for five and a half hours. One member said that "questioning Bill Casey was like punching a pillow". Another claimed: "He didn't seem to know what was going on in his own agency."
The following day Casey appeared before the House Select Committee on Intelligence (HSCI). Alan Fiers, a colleague at the CIA who also attended the session, remarked: He stumbled and fumbled. at times it seemed he couldn't talk. He had to be carried. He'd start to answer and wave to one of us to take over when his words or his facts failed him."
William J. Casey was due to appear before the HSCI on 16th December. The day before, CIA physician, Dr. Arvel Tharp went to visit Casey in his office. According to Tharp, while he was being examined, Casey suffered a seizure. He was taken to Georgetown University Hospital and was not able to appear before the HSCI. Tharp told Casey he had a brain tumor and that he would have to endure an operation. Casey was not keen and asked if he could have radio therapy instead. However, Tharp was insistent that he needed surgery.
Casey entered the operating room on 18th December. The tumor was removed but during the operation, brain cells were damaged and Casey lost his ability to speak. As his biographer, Joseph E. Persico, points out (The Lives and Secrets of William J. Casey): "one school of rumors ran, the CIA or the NSC or the White House had arranged to have a piece of the brain removed from the man who knew the secrets".
Robert Gates now became acting director of the CIA. He claimed that he was not involved in the Iran-Contra operation. In 1987 President Ronald Reagan nominated Gates to become the Director of the CIA. However, he was forced to withdraw when it became clear that he was going to be rejected by the Senate. This was partly because most members believed he lied about his involvement in the Iran-Contra Scandal. Gates was also suspected of passing intelligence to Iraq during the Iran-Iraq war.
In his final report Walsh suggested that Gates did not tell the truth when he said he only became aware on the "Iran/Contra activities" when he was told about it on 1st October, 1986, by Charles E. Allen. According to DDI Richard J. Kerr, Gates received a report that "Iran arms sales may have been diverted to support the contras" during the summer of 1986. Allen also testified that he believed he sent a memorandum to Gates several months before about the money that Oliver North needed to pay Manucher Ghorbanifar.
In his report Lawrence E. Walsh remarked: "Accordingly, the evidence was clear that Gates's statements concerning his initial awareness of the diversion were wrong: Kerr brought him the information from Allen over a month earlier than Gates admitted. This would have been material because it suggested that the CIA continued to support North's activities without informing North's superiors or investigating..... Gates's defense was that he did not recall the Kerr meeting. To say the least, this was disquieting." However, Walsh came to the conclusion that there was not enough evidence to warrant a prosecution of Gates.
Robert Gates remained as Deputy Director of Central Intelligence until 20th March, 1989, when he became Deputy Assistant to the President for National Security Affairs from March until August of 1989, and was Assistant to the President and Deputy National Security Adviser from August 1989 until November 1991.
President George H. W. Bush nominated Gates as Director of Central Intelligence on 14th May, 1991. Three of his colleagues in the CIA testified against Gates. Melvin Goodman, recently explained his reasons for taking this action: "Bob Gates, over the period of the 1980s, as a deputy for Intelligence and then as a deputy to CIA director Bill Casey, was politicizing intelligence. He was spinning intelligence on all of the major issues of the day, on the Soviet Union, on Central America, on the Middle East, on Southwest Asia. And I thought this record, this charge, should be presented before the Senate Intelligence Committee."
In an article published in July, 1991, Walter Pincus called for the Senate to approve Bush's nomination of Gates as director of the CIA. This time he was confirmed but he attracted 31 negative votes, more than all of the votes against all of the CIA directors in history. He served until 1993.
In 1992, Pincus falsely claimed that "special prosecutors have told former Defense Secretary Caspar W. Weinberger that he might face indictment on felony charges in the Iran-Contra scandal, unless he provided them with evidence they believe he has against former President Reagan... The dramatic attempt to get a former cabinet officer to turn on his commander-in-chief occurred a few days ago as Independent Counsel Lawrence E. Walsh tried to conclude his five and one-half year investigation of the affair."
A few days later Pincus wrote that Lawrence E. Walsh was considering indicting Ronald Reagan. This was again untrue and Walsh argues in his book, Firewall, that Bush was using Pincus to spread disinformation on the investigation. As Walsh pointed out: "Of all the sideswipes that we suffered during this period, the false report that we were considering indicting the nation's still-admired former president hurt us the most."
Walsh was attacked by the right-wing media of carrying out the "biggest witch hunt in America since Salem". The leader of the Republican Party in the Senate, Bob Dole, made a speech where he called on Walsh to close down the investigation. He criticized Walsh's "inability to understand the simple fact that it is time to leave Iran-Contra to the history books".
This time he was confirmed but he attracted 31 negative votes, more than all of the votes against all of the CIA directors in history. He served until 1993.
After retiring from the CIA Gates worked as an academic and lecturer. He published his memoirs, From the Shadows: The Ultimate Insider's Story of Five Presidents and How They Won the Cold War, in 1996. Gates also served as president of Texas A&M University and in March 2006 he joined the the Iraq Study Group.
On 8th November, 2006, President George W. Bush nominated Robert Gates as his new United States Secretary of Defense. When he heard the news, Melvin Goodman commented: "I think there is a rather delicious irony in the fact that here is a nation that went to war with politicized intelligence, and now it's naming as a CIA director someone who was the most important practitioner of politicized intelligence in the history of the CIA. So, as Yogi Berra would have said, "This is deja-vu all over again."