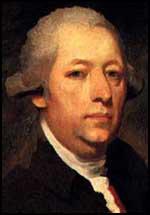 John Walter was born in London in 1739. He started as a coal merchant in 1755 and joined as an underwriter at Lloyds but in 1785 he lost a great deal of money after an increase in insurance claims as a result of a hurricane in Jamaica. Walter decided to look for a new form of business. While an underwriter he became aware of a new method of typesetting called logography. The inventor, Henry Johnson, claimed that this new method of typesetting was faster and more accurate because it allowed more than one letter to be set at a time. John Walter purchased Johnson's patent and decided to start a printing company.
John Walter came to the conclusion that he had to find a good way of publicizing his logography system. Eventually he came up with the idea of producing a daily advertising sheet. The first edition of the Daily Universal Register was published on 1st January, 1785. It was in competition with eight other daily newspapers in London. Like the other newspapers, it included parliamentary reports, foreign news and advertisements. John Walter made it clear in the first edition that he was primarily concerned with advertising revenue: "The Register, in its politics, will be of no party. Due attention should be paid to the interests of trade, which are so greatly promoted by advertisements."
After a couple of years John Walter had discovered that logography was not going to have the impact on the printing industry that he had initially thought when he started the Daily Universal Register . However, he was now convinced he could make a profit from newspapers. Especially when he was able to negotiate a secret deal where he was paid £300 a year to publish stories favourable to the government.
In 1788 John Walter decided to change the name and the style of his newspaper. Walter now started to produce a newspaper that appealed to a larger audience. This included stories of the latest scandals and gossip about famous people in London. Walter called his new paper The Times. One of these stories about the Prince of Wales resulted in Walter being fined £50 and sentenced to two years in Newgate Prison.
John Walter handed over the running of The Times to his son John Walter II in January, 1803. He died in 1812.