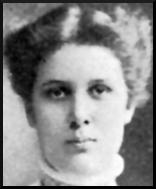 Juliet Poyntz was born on 25th November, 1886 in Omaha, Nebraska. Her father, John James Points, was a certified public accountant, and her mother, Alice Eulalie Stewart Points, a school teacher.
In 1895 Juliet's father left the family home. Her mother decided to move with Juliet to New Jersey. While studying at Barnard College she changed the spelling of her name from Points to Poyntz. She then moved to England where she studied at London School of Economics and Oxford University. Juliet developed left-wing views and became involved in the struggle for women's suffrage.
Reiss's death moved me deeply. But another murder touched me closely - that of Juliet Stuart Poyntz, Barnard College graduate, Midwestern American, former member of the Central Committee of the Communist Party, U.S.A., long an underground worker in a Soviet apparatus whose existence (until her death revealed it) I had not suspected. I had known Juliet Poyntz. She had been a member of the first unit of the Communist Party which I joined in 1925. A heavy-set, dark, softly feminine woman, she was also a little absurdly imperious and mysterious as Communist bureaucrats often become, sagging self-consciously under the weight of so much secret authority and knowledge.

In 1937, Juliet Poyntz deserted from the Communist Party. She was living in a New York hotel. One evening she left her room with the light burning and a page of unfinished handwriting on the table. She was never seen again. It is known that she went to meet a Communist friend in Central Park and that he had decoyed her there as part of a G.P.U. trap. She was pushed into an automobile and two men drove her off. The thought of this intensely feminine woman, coldly murdered by two men, sickened me in a physical way, because I could always see her in my mind's eye.

I was not a quarry of those twilight manhunts. I was too small a figure, compared to those great ones in the underworld of Communism. I was affected but not endangered. Moreover, I had never been a Trotskyist. But these episodes from our daily life served me as profuse examples of what I could expect when I broke. I studied the mistakes by which the deserters were trapped as a man might study the chart of a minefield. I determined to fight the Communist Party as a Communist would fight, to prepare my break carefully, using against the conspiracy all the conspiratorial method it had taught me, and especially to guard against premature, impulsive actions caused by tensions more or less natural in the circumstances.
(1) Cornell University IRL School, A Lady Vanishes (21st January, 2014)