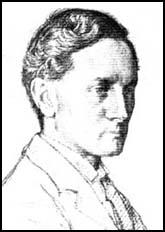 Henry Newbolt was born in Bilston, Staffordshire, in 1862. After studying at Clifton School and Oxford University, became a barrister. He published his first novel, Taken from the Enemy, in 1892. This was followed by Mordred: A Tragedy, in 1895. He also published two volumes of poetry, Admirals All (1897) and The Island Race (1898).
Soon after the outbreak of the First World War, Newbolt was recruited by Charles Masterman, the head of Britain's War Propaganda Bureau (WPB), to help shape public opinion. Newbolt, who was controller of telecommunications during the war, also published The Naval History of the Great War (1920). He was knighted in 1915 and awarded the Companion of Honour in 1922.
Sir Henry Newbolt died in 1938.
(1) Henry Newbolt, The Schoolfellow (1914)
Our game was his but yesteryear;

We wished him back; we could not know

The self-same hour we missed him here

He led the line that broke the foe.

Blood-red behind our guarded posts

Sank as of old and dying day;

The battle ceased; the mingled hosts

Weary and cheery went their way:

"To-morrow well may bring," we said,

"As fair a fight, as clear a sun."

Dear Lad, before the world was sped,

For evermore thy goal was won.