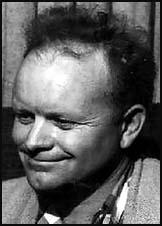 Harry J. Dean was born in Canada in 1927. At the age of fifteen Dean moved to Michigan. He took a keen interest in politics and in 1958 he became a member of the 26th of July Movement, a group led by Fidel Castro. Dean also formed a chapter of the Fair Play for Cuba Committe in Chicago.
In 1960 Dean was threatened with being "indicted as an unregistered agent of a foriegn government". As a result Dean agreed to enter Cuba in order to gather information for U.S. Intelligence. Later, when being debriefed by the Central Intellegiance Agency, Dean told them that "the Cuban people would rise against Castro during an invasion by the U.S."
In 1962 Dean joined the John Birch Society. During this period he provided information on the Fair Play for Cuba Committe to the FBI. Dean has claimed: "A second revolution was raging. The liberal establishment in the U.S. was under attack by ultra-conservative forces that had begun to organize in 1958. This fast growing power absorbed the anti-Castro Movement there. They used these Cubans to further their own 'rightist' goals, such as the American Communist Party was doing in exploiting the opposing pro-Castro Cubans. But among the widespread 'rightist' movement were assassin-minded persons that would take action to aid in seizing control of the U.S. government if only given the word."
Dean goes onto argue that Lee Harvey Oswald was selected by General Edwin Walker as "the fall guy" in the plot against President John F. Kennedy. "When Kennedy visited Mexico City in late June of 1962, Gabaldon in league with some rightist Mexican Federal Police Officials, was set to shoot president Kennedy. Only a last minute escape problem aborted that assassination scheme." Lawrence Howard and Loran Hall were dispatched by "Gabaldon to enlist to Oswald in (a phony CIA, Central Intelligence Agency set-up) at Gabaldon's Mexico City area office."
Disturbed by these events, in September, 1963, Dean began supplying information on the activities of the John Birch Society to the Federal Bureau of Investigation. Dean claimed that "Lee Harvey Oswald was not involved in the assassination of John F. Kennedy. Like myself, he worked for the FBI and the CIA.. Oswald was an undercover agent working for the security services... Oswald was framed by Walker and other conspirators of the Kennedy assassination plot. Walker and two of his Army sharpshooters met regularly to discuss the plans for the actual shooting of Kennedy."