Herbert Lutz, the son of a delivery driver, was born in Cologne on 29th April, 1928. His father lost his job in the Great Depression and developed right-wing political opinions. "We went through some pretty bad times. My father... had to report to the unemployment office. I don't know how often, but it seemed to be very often. Since there was no supervision for me, my dad took me along to the unemployment office. I remember that distinctly because it was very exciting. People were waiting in line to get their little stamp for employment money while they were looking for jobs. There was a lot of discussion going on, and I remember that quite often there were fights. The interesting part is that from that time, it always seemed to me that the fights, so people said, were started by the communists, and often times they got into fist fights. So very early on I was scared of communists, because to me they were the evil people." (1)
Lutz's father became a supporter of Adolf Hitler and the Nazi Party: "In January 1933, when the Nazis took over, I was not yet five years old. I remember very clearly all the writings on the sidewalks with swastikas and the hammer and sickle and people yelling and marching and all that. Then came a big commotion and people said that the Nazis won. A short while after that, when my father again was at the unemployment office, he ran into his company commander from WWI. It was sort of a big surprise. This company commander then invited my father to come to a meeting of some party. I don't know whether he was an official or officer or whatever, but it turned out to be the Nazi Party. So he went to one of the gatherings, was very impressed, and came back as a member of the Nazi Party wearing a brown uniform. Up to this day I don't know where the money came from. We sure didn't have any money to buy that, so there must have been somebody who furnished uniforms for people.... From then on my father was gone most of the time working for the Nazi Party." (2)
In 1935 Herbert Lutz joined the Hitler Youth. "At the age of seven, I joined the Hitler Youth. It was the Jungvolk, the Pimpfen... I remember that the guy in charge of the group, who was maybe three years older than I was, said, What do you know about drills and such? My father and I had played soldiers at home, so I showed him what I knew, like about-face and all these commands. He was impressed and said, Fine, join. It was something that, to us kids, did not have any political content whatever."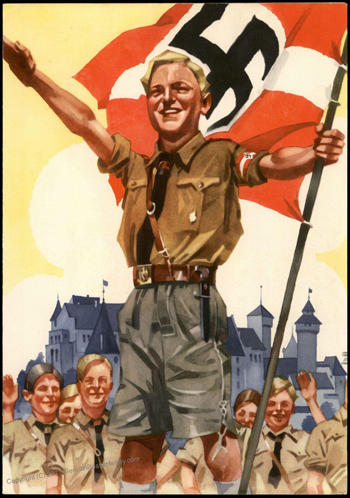 Herbert Lutz claimed that discipline was strict in the Hitler Youth: "Whenever you have kids at that age, around ten years, or twelve years and younger, you have to maintain discipline. The discipline in the Hitler Youth was maintained simply by having certain punishments. For instance, if you talked out of turn, you were punished by not being allowed to wear your scarf for three weeks. That was not for really severe crimes; it was for clowning around or whatever. The other punishment was a more severe punishment. Part of our uniform was a dagger. Can you imagine a ten-year-old carrying a dagger? It was an honor to be allowed to wear that. If you did something really nasty, you were not allowed to wear your scarf and your dagger and that meant that you were like an outcast. If something worse happened, they would send you home and you had to work it out with your parents. That worked really well." (3)
Herbert Lutz grew up loving Adolf Hitler. "He was admired, very much admired. We all really loved him. We felt that he could do no wrong. Whenever something went wrong or was obviously wrong, people tended to blame it on the underlings. I'd only seen him twice, and the length of time was for ten seconds each time. So I can't base any opinion on that. I do remember that there were lots of pictures of him, though. As a matter of fact, in our office at the Ortsgruppe party headquarters, there was a picture of a little girl handing him a bouquet of flowers. Also we had this image of him feeding a little deer and being seen with his Blondie, his German shepherd dog. And you saw him breaking ground for the Autobahn, shoveling dirt and so on. He had the image of a savior, and he was looking for that. He was idolized to the point that when I was eight years old I asked myself, What happens if he dies? He does everything."
Lutz enjoyed his time living in Nazi Germany: "To us, it was the most exciting time of our lives. As a Hitler Youth, you liked action, you liked to show what a tough guy you are. You know, like fighting fires and dragging people out from under the rubble; wearing your steel helmet and having a cigarette in the corner of your mouth. We didn't know any better. You see, when the Nazis came to power, I was five years old. I grew up in this, so it was a normal way of life to me." (4)
Lutz argues that most of his schoolteachers in Cologne were anti-Nazi. "There was never anything discussed of that nature in school. My Latin teacher was Jewish. Around 1943 he committed suicide. My favorite teacher was my math teacher. I remember that one day he asked me a question. I was wearing my uniform, and I stood up, clicked my heels, and he blew up." The teacher shouted: "I don't want you to do this. I want you to act like a human being. I don't want machines. You're not a robot." After the lesson he called Lutz into his office and apologized. Lutz later recalled: "He was probably afraid that I might report him to the Gestapo." (5)
The Nazi government began an anti-Jewish propaganda campaign. This included the newspaper, Der Stürmer, edited by Julius Streicher. A young Jewish girl, Rebecca Weisner, later recalled: "The Der Stürmer newspaper... was all over the place; it was on every corner, you couldn't miss it. There were the Jews with the big noses and all that. I could not understand that anyone could imagine that Jewish people could look like this." (6)
Herbert Lutz used to read the newspaper: "We kids used to go and look at it (Der Stürmer), because it was wild stuff. It was pornographic, not in the sense of showing nudity or girls or something, but it was real low-grade type of propaganda given to the people. I would say it was the National Enquirer equivalent in the Nazi Party. Truth didn't mean anything; distortion was enormous. It was almost like reading dirty fairy tales. So that was one example of propaganda. During the war there were also a number of propaganda movies." (7)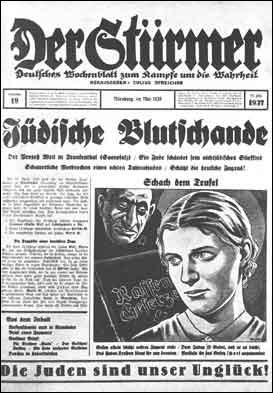 Lutz claimed that he first heard stories of atrocities committed by the Schutzstaffel (SS) in 1943. "The reports we heard were always presented as anti-partisan activities. Now that doesn't make the killing of women and children acceptable by any means. But there is a slight difference here between fighting partisans, who were actually attacking you and fighting you, and rounding up Jews and killing people who were not, really doing a damn thing to you and so on. But you also have to see that Russia had refused to obey the Geneva conventions. And, in addition, the British had made it very clear that they bombed women and children to weaken the home front. So I think a lot of people thought, Okay, if that's what you want, that's what you get."
During the same period he became aware of concentration camps: " We heard about a transport of people going out. There were rumors that people were killed, but there was never any mention of gas chambers. There were rumors that said people were squeezed together in these camps and most died of typhoid fever. And that was in essence the execution style. Now, about shootings, that was in connection with the partisans. Nevertheless, I am sure that they rounded up Jewish people and executed them along with the other partisans. I didn't really give it any thought. I was fifteen, sixteen years old. We heard this on the periphery. That was not, to kids of my age at the time, our primary interest. We didn't think about it. No, we didn't even think about it. They were out of sight. I'm talking about people who are fifteen years old. And there were the bombing raids and there were questions about food. There weren't very many Jews, first of all. Even at the time when all the Jews were still in Cologne, you hardly ever saw any Jewish people where we lived in the Cologne suburbs of Sülz and Klettenberg." (8)
After the war had finished Herbert Lutz refused to believe that over 6 million people had been killed in the Holocaust. "In 1945 after the war there were a lot of people running around and showing their numbers, their tattoo numbers. There were some pictures that were shown right at the end of the war, like when they liberated Dachau, Buchenwald. But that to us was almost understandable because the pictures they showed were of people that had obviously died from starvation. You could see their skeletons. We had not been through that kind of a starvation, but we knew how quickly you lose your weight. And there was also the word that most of these people had died from typhoid fever. And there were many other typhoid cases, for instance, in France and in Buchenwald. So, yes, that was not excusable. On the other hand, there were times at the end of the war when a lot of our people didn't have anything to eat. We tried not to believe it. We simply said, No, that's too brutal, too gruesome, too organized."
Herbert Lutz became a physicist and emigrated to the United States in 1959. "Quite frankly, I began to read more and study more about it when I was in this country after 1959. A lot of people asked me, How come you guys didn't know this? You claim you didn't know anything about it. And, I asked myself, Well, how come you didn't know this? So I started reading a lot and I started, well, maybe reading with a biased mind, hoping that I would find reason to believe that it was not true. But the evidence piled up. This became more convincing by the day. So I also asked myself, Could we have done anything different? Where did the responsibility lie? My conclusion was the responsibility lies in the fact that people didn't do anything about it. They just stood by and closed their eyes and ears. And I think that is true. People just didn't want to believe it. (9)