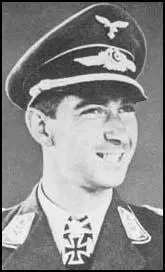 Werner Moelders was born in Gelsenkirchen, Nordrhein Westfalen, Germany on 18th March 1913. After studying at the Dresden Military Academy he joined the Luftwaffe in 1935.
Moelders was employed as a flight instructor until 1938 when he was promoted to squadron commander and sent to Spain. During the Spanish Civil War he was credited with fourteen kills, more than any other German pilot.
On the outbreak of the Second World War Moelders was given command of Jagdgeschwader 53. During the Western Offensive he led Jagdgeschwader 51. On 5th June, 1940, he came close to being killed when he was forced to bale out of his burning Messerschmitt Bf109 at Chantilly.
During the Battle of Britain and Operation Barbarossa, Moelders became Germany's most successful pilot with 115 kills. He also became the first member of the Luftwaffe to win the Knight's Cross with Oak Leaves, Swords and Diamonds. With this award he became the most decorated soldier in Nazi Germany.
On 17th November, 1941, the First World War fighter ace, Ernst Udet committed suicide. Moelders, who was fighting in the Soviet Union, was called home to attend Udet's funeral. Werner Moelders was killed when when his Heinkel He111 crashed in fog at Breslau on 21st November, 1941.