The Messerschmitt Bf 109 was designed by Willy Messerschmitt and Walter Rethel and had its first test flight in 1935. The all-metal aircraft had a closed cockpit and a retractable under-carriage. It was initially powered by a Rolls-Royce Kestrel V engine. It had a maximum speed of 342 mph (550 km) and had a range of 410 miles (660 km). It was 28 ft 4 in (8.65 m) long with a wingspan of 32 ft 4 in (9.87 m). The aircraft was armed with 2 machine-guns and 2 20 mm cannons.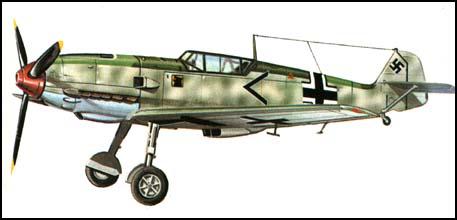 At the International Air Show in Zurich in July 1937, the BF 109 with a modified engine, set a world record of 379.39 mph. Until the Battle of Britain the BF 109 was considered the best fighter aircraft in the world.
The BF 109, like its main rival, the Supermarine Spitfire, was continually improved throughout the Second World War. Messerschmitt A. G. produced over 35,000 for the Luftwaffe between 1936 and 1945.