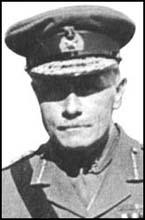 George Milne was born in 1866. During the early stages of the First World War he was a colonel with the British Expeditionary Force. After impressing senior officers on the Western Front, Milne was transferred to the Balkan Front where he became commander of the 27th Division.
In 1916 Milne was sent to Salonika under the French Commander-in-Chief, General Maurice Sarrail. He took part in the successful Vardar Offensive in the autumn of 1918 and afterwards led his troops into Turkey. Milne stayed in Constantinople until 1920.
George Milne died in 1948.