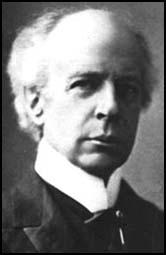 Wilfrid Laurier was born in St Lin, Quebec, in 1841. He became a lawyer and in 1874 was elected to the Ottawa parliament. A member of the Liberal Party, Laurier became minister of inland revenue in 1877 and was eventually appointed leader of the Liberal Party. In 1896 Laurier became Canada's prime minister, the first French Canadian and the first Roman Catholic, to hold this office.
Over the next fifteen years Laurier worked hard for imperial collaboration while insisting on Canada's right to take decisions over foreign affairs. Laurier helped create a greater sense of unity in the country and was responsible for improved trade relations with Britain. His good relationship with the British government was reinforced by his decision to send Canadian troops to help Britain during the Boer War.
Laurier's political opponents objected to his plans to strengthen trade links with the USA. In October, 1911, Laurier's government was defeated on this issue and he was replaced by Robert Borden, the leader of the Conservative Party.
During the First World War Laurier supported send the Canadian Army to the Western Front but opposed Borden's plans for conscription.
Wilfrid Laurier died in 1919.